Description


An unforgettable evening of growth, learning, and fun.
A practical night of tips. A champagne tasting.

A free headshot. A gathering of ambitious women & femmes & allies.

Join Danetha Doe and Emily "Femily" Howe for a panel discussion with powerful women on how to "lean in" and make it - in corporate America, in tech, in the nonprofit space, and in your entrepreneurial ventures - without losing yourself.
You will gain practical tips and "a-ha!" moments on how to LEVEL UP your inner power and confidence, personal style & branding, ability to make big "asks," and your body confidence and self-love.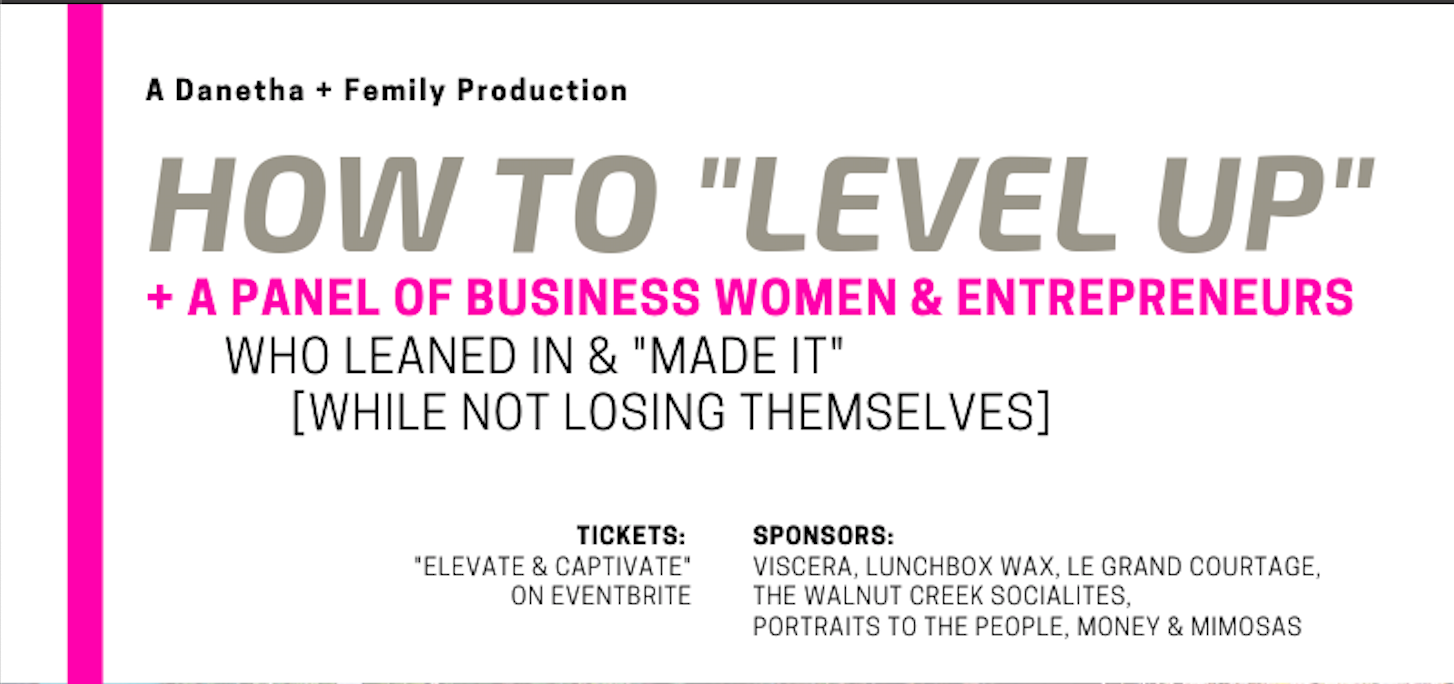 Your general admission ticket includes:
Mimosas and champagne sips (and sips and sips!) courtesy of Le Grand Courtage.
An expert panel of inspiring corporate movers/shakers, successful lady entrepreneurs, and leaderly do-gooders who are going to share their ideas and best tips from the trenches.
A "very best version of you" of a new headshot – or photo with your biz partner or BFF - from professional photographer (she's literally been in Oprah magazine!) Sarah Deragon of Portraits to the People (and The Identity Project) fame.
The chance to ask experts your questions on gender, money, and success at the intimate, post-panel cocktail party.

Real connections who will be as excited about lifting up your biz and brand as you are about lift up theirs.
All the usual authenticity, diversity, and good vibes of an event by Danetha & Emily.

Expert panelists & topics:
Craft a captivating personal brand that doesn't feel "fake." JOUI TURANDOT,

creative branding expert and

founder of JTM Consulting.
Make power moves + big asks with confidence. SOFIA NAVARRO, nonprofit leader and Vice President of Community and Government Relations at Planned Parenthood Northern California.
Stand in your inner power + connect to your purpose. CARLYN BIALOSKY, entrepreneur and intuitive, of Consciously Connected.

Elevate your body confidence + "lean in" to your dreams. - ALLI FRITZ, Choreographer, Dance Pro, & Account Executive of Oracle.
WANT A LITTLE EXTRA? Ditch the excuses between you & your dream: come 30min early for a mini-workshop with COLLEEN STAR KOCH, the founder of Rowan Coaching. Kick off your night with A 5:30 (VIP TICKET) WORKSHOP: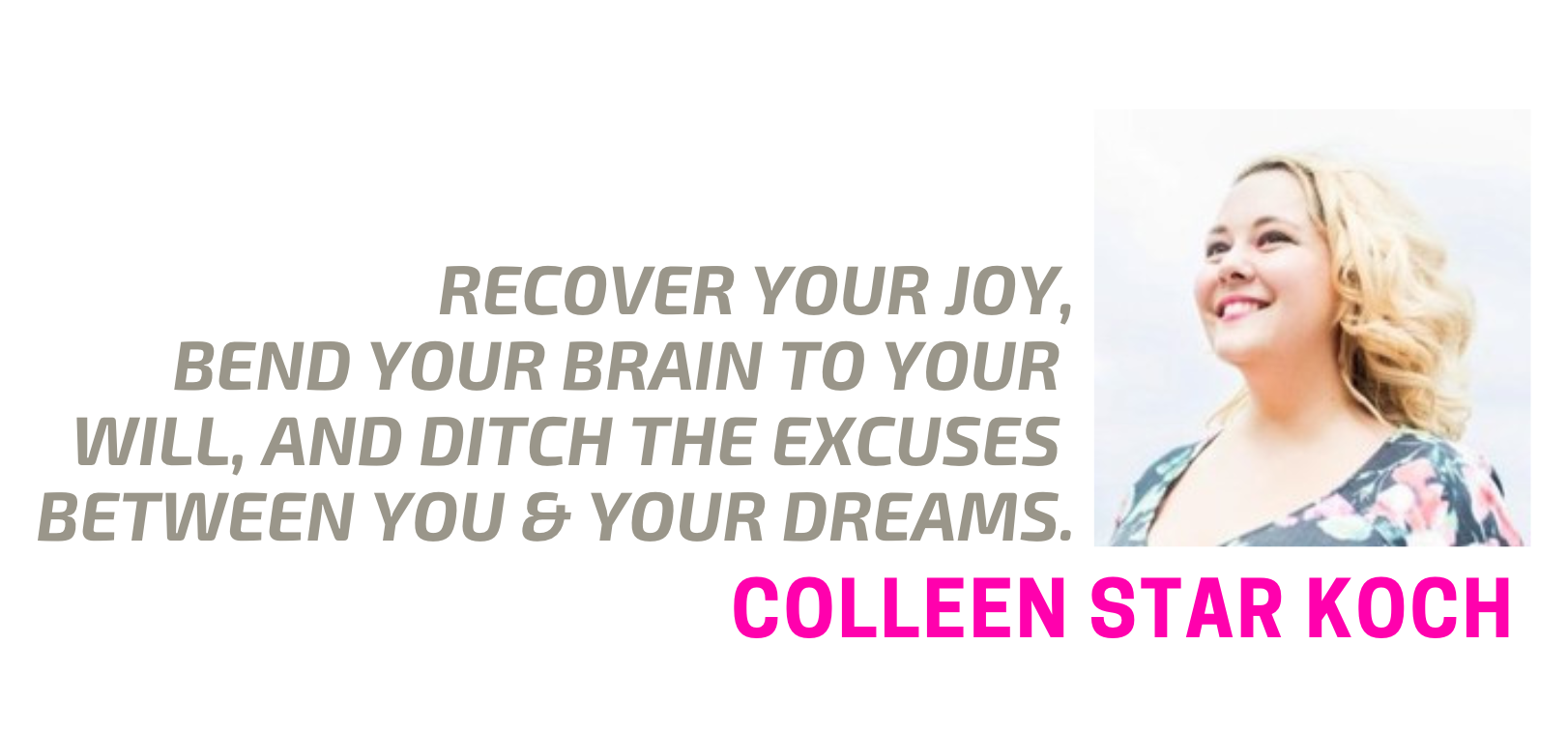 COLLEEN STAR KOCH is
the founder of
Rowan Coaching
and a well-known
coach who helps women
untangle BS beliefs (like "imposter syndrome") that prevent you from living your biggest, baddest, juiciest life. Colleen is a brain-based coach, and she's joining us to teach you more about how your brain actually works, so you can turn those noggin' noodles into an asset instead of an obstacle. Come learn some simple, neuroscience-based tools to untangle BS beliefs that are giving you imposter syndrome and preventing you from living your biggest, baddest, juiciest life. F*** that noise. You're a bad boss babe. Isn't it time your own brain got on board? This quick workshop will help you get out of your own way and on the path to your dream life. (Don't forget to pre-register by adding it to your eventbrite cart.)
---
---
---
Brought to you by
DANETHA DOE (financial expert for modern, ambitious women) and EMILY "FEMILY" HOWE (corporate gender strategist). Danetha Doe is a financial expert for the modern woman and creator of Money & Mimosas, a popular #moneymindset blog for millennial women, and the host of the Future of Accounting podcast, the #1 podcast for young CPA professionals. She is a senior management consultant with Portola Advisors; with a Master's degree in Gender/Cultural Studies, Femily helps businesses advance women and reduce workplace gender bias. She frequently speaks, writes, and organizes events on women/workplace issues.
A TABOO TOPICS experience: candid, eclectic, transformational in-person events for Bay Area executives and entrepreneurs - especially women and femmes - to build strong leadership networks, swap opportunities, and talk about the most pressing elephants in the room: money, sex and power.

In conjunction with MONEY & MIMOSAS: A social club, blog, and weekly newsletter read by thousands of women from New Zealand to San Francisco on how to be rich, sexy, and confident - while giving back and living a luxurious-feeling life.

THANK YOU TO OUR SPONSORS
Viscera:
an Oakland-based design house that sells avante garde but wearable pieces including clothing, jewelry, and accessories.
LunchboxWax
: "
Let's not beat around the bush—
LunchboxWax
is simply the go-to choice for waxing services."