About this Event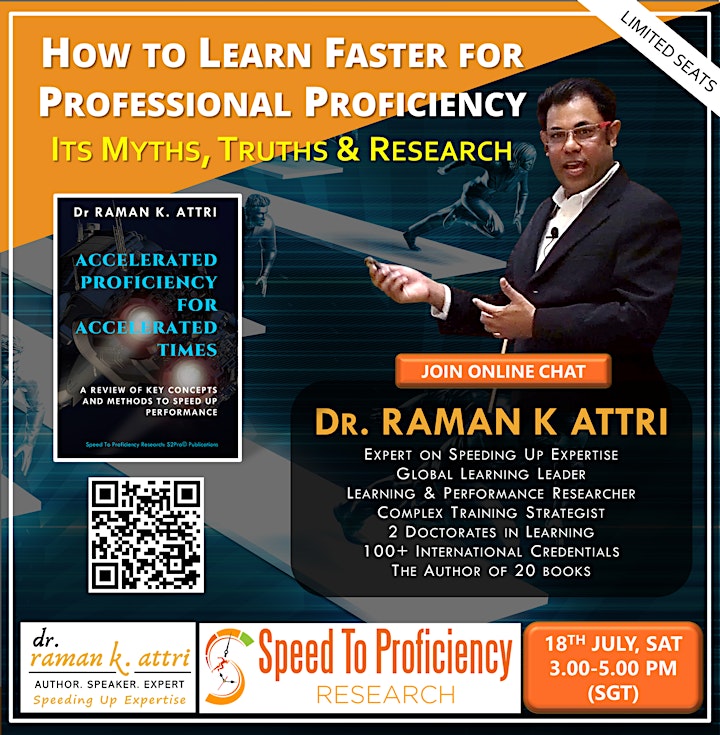 Why this session
The world is moving at a faster pace. You, as a professional, now need to learn new never-tried-before skills, technologies and professional competencies. And you need to learn it faster to stay ahead, stay competitive and stay relevant in a business world where customer/client demands are changing at rapid pace. You can't afford to learn slow.
However, the guidance you get from most books and articles and so-called-gurus is half-cooked or based on unverified myths.
In this session, you will learn how to learn faster, not for the sake of learning but for the actually producing the desired performance to a reasonable standard.
Be prepared to break some of your long-held beliefs and misconceptions about learning yourself and how you have been teaching others to learn (including your kids). Be prepared for a breakthrough thinking about how learning can be sped up.
Why this session is different
This session will reveal unseen tips, powerful techniques, research-based framework and findings. This is unlike any traditional 'how to learn fast anything' themed sessions you may have attended before which are mainly geared towards selling you something. Those sessions simply deliver you unverified tips with poor or no research.
This session is conducted by Dr Raman K Attri, who is a leading authority on 'speeding up expertise' in personal, professional and organizational settings. He has experimented, studied and researched learning sciences and performance sciences for several decades and bring out shocking truths while bursting misconceived myths.
Using his well-experienced, well-researched and well-tested methods, he has earned 100+ international and educational credentials in a short span. His achievements include 2 doctorates, 3 masters degrees, numerous PGDs, Diplomas, professional certificate courses, 20+ international certified designations (like Certified Project Director & Certified Quality Director), tons of professional certifications and other credentials. Among others, he is certified as a trainer, training manager, and also ACTA certified.
Mastering the art and science of "human learning", Dr Raman has learned a wide variety of domains including engineering, physics, management, sciences, psychology, human behaviors, performance, education, training, arts, poetry, paintings among several others.
A strong believer of unlimited human potential, he has applied his methods to learn a range of professional skills at a faster rate that includes technical skills, research skills, book writing skills, design/artistic skills, study/academic skills, training and speaking skills, management/leadership skills, business and consulting skills among several other things.
Making the best use of his research and experimental models, he has authored 20 books on various genres which range from poetry and painting, to learning and performance sciences to management and leadership to complex scientific research and technical products.
Known for proven methods to accelerate professional performance, Dr Raman is one among a handful of global experts who specialize in the niche subject of how to accelerate proficiency and expertise of employees in the organizations. He has conducted extensive research and taught leaders how to implement proven competitive strategies that can reduce time to proficiency of employees, teams, managers and leaders.
What you will learn
In this power-packed, research-based session you will learn
How learning is half the truth to the performance
Why professional proficiency matters
Why speed matters in professional skill learning
What are the myths that have been making you an ineffective learner
How you should learn differently in professional settings
How you can speed up learning to gain faster proficiency in anything
Who should attend?
Anyone who cares to learn professional skills at a faster rate
Anyone who needs to become proficient in a job role in a shorter time
Special note
This session is not about academic/school learning
Selection
Due to heavy demand of this topic, this event joining information may not be sent to all the registrants. The registrations will be hand-picked based on responses to two questions in the registration form to ensure that your goal and session goals are aligned.
if you need this session badly, put yourself in the wait list or contact me for a dedicated session.