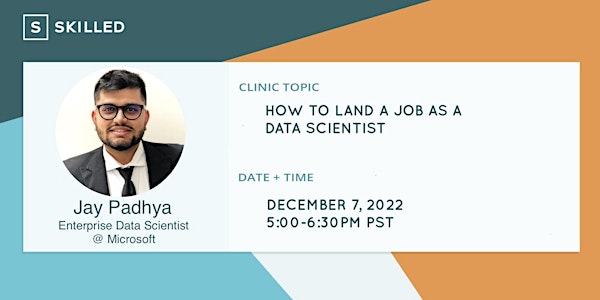 How to Land a Job as a Data Scientist
Skilled Clinic on Data Science, lead by mentor and Enterprise Data Scientist at Microsoft, Jay Padhya
About this event
It is important to consider different parameters when you are applying for data science roles. This event, presented by Jay Padhya, will cover the broader understanding of Data Scientist roles, Types of data science roles, technical and behavioral preparation for the interviews and Do's and Don'ts. Jay will introduce you to preparing for data science roles, technical stack needed, considerable data science projects in your portfolio and how to stand out in interviews. This event will help you add more knowledge on strategic ways to think and act on Data science interviews.
This Skilled Event will cover:
Understanding Data Scientist Roles
Job application tips
Preparing for Technical rounds for Data Scientist roles
And more!
Presented by Jay Padhya, alumni of Northeastern University and data science professional with previous experience at CVS Health, Stellantis, and Oshkosh. Jay is currently an Enterprise Data Scientist, Sr. Cloud Solution Architect at Microsoft.
This 90-minute event will be held virtually over Zoom. This is a classroom experience with projects that require student participation.
Please visit : www.skilledinc.com or hacktheinterview.io for further information on mentorship and upskilling opportunities.