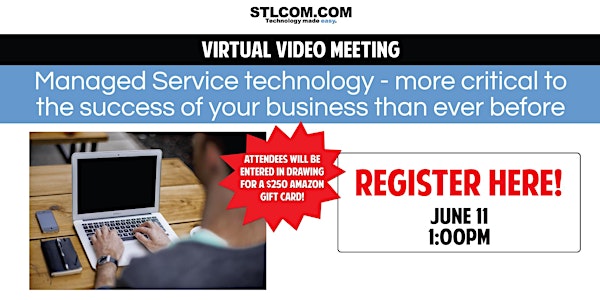 How to keep your company connected: Managed Services webinar
Join our industry experts to learn how managed services can help keep your company connected and successful.
About this event
PLEASE NOTE: We need a work email address in order to process your registration. Generic email addresses (Yahoo, Gmail) cannot be accepted.
Join the STL Technology Superheroes for a educational, live video call about the dramatic shift to cloud/managed IT services in the "New Business Reality".
Steve Leidholdt, President/CEO of STL will explain why many organizations are choosing to consume leading edge technology as a managed service rather than making a capitol purchase. Dave Leidholdt, VP of Sales will demonstrate how technology as a service can help your team take even better care of your customers, and find new ones while working from the office or remote.
According to experts, technology managed services will grow by more than 50% by 2023. Why is this such a big deal? Because it indicates that more and more companies are realizing that business-as-usual is anything but that…
In 2020 we are on the brink of a whole new reality.
Attendees may be eligible for a free remote technology audit. We will also be giving away one $250 Amazon gift card at the end of the webinar! Must be in the webinar to win!