HOW TO INVESTIGATE AND PROSECUTE AT A DOMESTIC INQUIRY | MECA Public Course

Monday, July 21, 2014 from 8:30 AM to 5:00 PM (Malaysia Time Malaysia (Kuala Lumpur) Time)
Event Details
Summary:

---
From minor violations to petty thefts and 
harassment complaints to insubordination and 
disruption to work, internal investigations are 
business as usual for HR professionals. But it's 
important to remember that they're a 
double-edged sword: You have a legal duty to 
promptly investigate complaints and alleged 
misconduct, but if you make mistakes along the 
way, you could wind up in even more hot water 
than when you started. Join us for this programme 
tailored for investigators and prosecutors where 
you will learn :
---
The difference between misconduct and poor 

 performance

When the employer's conduct may be deemed 

 condonation

Purpose of preliminary investigation

Role of the Investigation Officer

Who should be the Investigation Officer

Process of investigation

Recording of statements 

Notes of interview

Selection of witnesses

Framing of charges

Group exercise on framing of charges

Role of the Prosecutor

Role of the assistant prosecutor

Examination of witnesses

Leading questions

Cross examination techniques

Briefing of witnesses

Burden of proof

Standard of proof

Making an effective submission

Mock domestic inquiry
---
For more information, please email to alvin@meca.com.my or contact us at 03 - 7610 0190
Visit www.meca.com.my/events

Note: This is a Chargeable Course: RM 1235 (Early Bird Rate) & RM 1355 (Normal Rate). A RM 100 discount per pax for Group Participation. 
---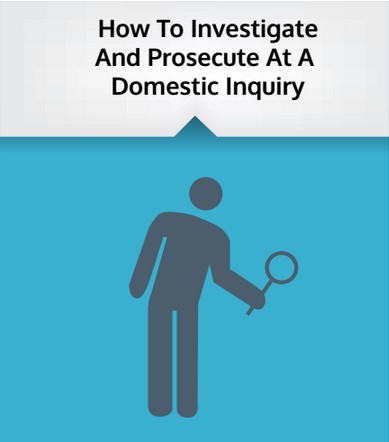 When & Where

Best Western Premier Dua Sentral Kuala Lumpur
8 Jalan Tun Sambanthan 1
Kuala Lumpur, Federal Territory of Kuala Lumpur 50470
Malaysia

Monday, July 21, 2014 from 8:30 AM to 5:00 PM (Malaysia Time Malaysia (Kuala Lumpur) Time)
Add to my calendar
Organizer
About MECA Employers Consulting Agency:
When someone asks what we do, it is tempting for us to point back to our unblemished 17 years of providing top notch industrial relations advisory works to Human Resource professionals all over Malaysia. We have been living by our mission to assist and train your Human Resource and Industrial Relations personnel on all aspects of labour laws in Malaysia and together we believe we are able to redefine the standards required of this profession.
The big question is…..How can we add value to your business?
Human Resource is slowly developing into a very strategic role. Gone are those days where this practice revolves solely around payroll and leave applications. With a surge in labour law disputes arising from the interpretation of the Employment Act 1955 and the Industrial Relations Act 1967, companies now require experts in this field to advice on best practice methods to prevent unnecessary lawsuits.
MECA sets itself apart from it's legal competitors because we are driven by the ambition to hold and guide our Clients before a case or dispute is anticipated. That is the main reason we encourage Clients to join us on a retainer system! A member of MECA will be able to enjoy the benefits of getting advice on the go, being updated with the development of labour laws in Malaysia, etc. With our years of experience, we have been able to explore many industries in great depth we trust that with the experience of handling our list of Clients, we will be able to assist you.
Still unclear? Here's a brief summary of some of the services we provide
:
Drafting of appointment letters, show cause letters, notice of inquiry, dismissal letters, etc
Review and drafting of employee handbooks, policies and procedures on all labour law issues (including sexual harassment, whistleblowing, code of conducts, anti-corruption, etc).
Designing compensation packages upon termination of employment (usually for retrenchment, VSS, medical board out).
Conducting thorough and in-depth industrial relations research.
Conducting audit on cases for misconduct in employment or poor performance.
Preparation for negotiations for collective agreement.
Providing opinions based on the law and decided cases by telephone, fax, e-mail or in writing.
Preparing for and conducting domestic inquiries, including providing training to prosecutors and panel members.
Preparation for conciliation with industrial relations officers.
Advice on mergers and acquisitions, changes in ownership of businesses, retrenchment and restructuring.
Assist in negotiations or meetings with the union.
Representing employers at Labour Court hearings.
Assisting in Industrial Court cases through our panel lawyers.
Public & In-house training Courses for all labour law matters.