Event Information
Location
Peoples Capital Group | Corporate Office
261 Springfield Avenue
Berkeley Heights, NJ 07922
In person event at the Peoples Capital Group headquarters in Berkeley Heights NJ. Learn how to invest like to top 1%. Dinner Included.
About this event
This event is limited to Sophisticated or Accredited investors. We are inviting a select group of qualified individuals to enjoy a 45 minute educational presentation about how to invest like the top 1% wealthiest people in America.
This event will be in our Berkeley Heights, NJ headquarters and is limited to 15 people.
Refreshments and sandwiches will be available.
The top 1% have long held the secret to paying yourself using the banks money and how to pay far less taxes using this unique investment strategy. This strategy is no longer a secret and will be taught during this presentation. Learn how to :
1. Pay yourself using the bank's money
2. Structure your investments so they create tax shelters, not tax burdens
3. Build a consistent source of passive tax free income
4. Own the preferred asset class of billionaires
5. Borrow against your stock portfolio to build wealth
Don't miss out on one of Peoples Capital Group's first in person event in almost two years. Learn, network, eat and get ahead of the competition. Includes in depth education, dinner and the opportunity to network with like minded investors.
This is not a solicitation for funds, tax advice or legal advice. This event is only for Sophisticated or Accredited Investors.
There is a limit to seating, each attendee must RSVP. Attendance is free. RSVP is required. Limited spots, RSVP now to ensure a spot is available.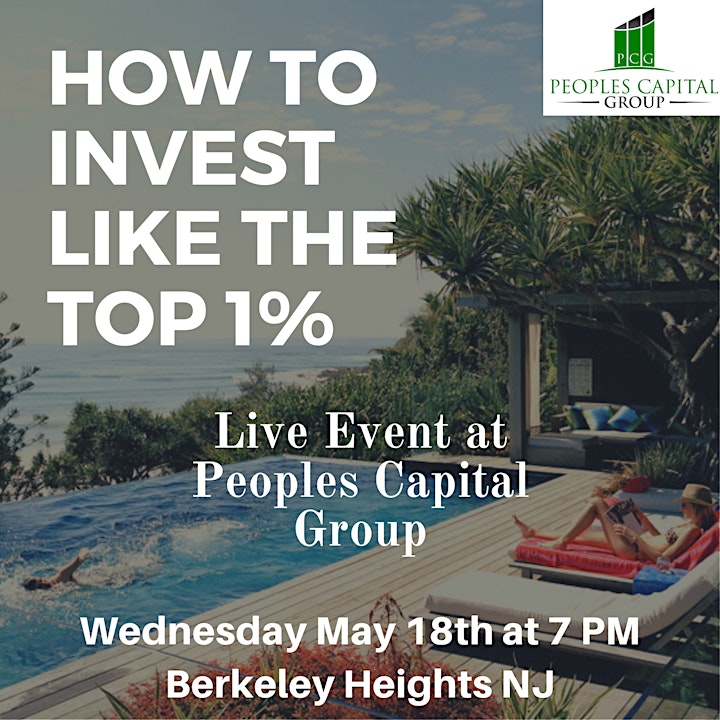 Date and time
Location
Peoples Capital Group | Corporate Office
261 Springfield Avenue
Berkeley Heights, NJ 07922