How to Identify and Navigate Federal Funding Opportunities
Join us for our workshop with Eagle Point Funding to learn about the world of Federal funding!
About this event
ZOOM Link: https://uci.zoom.us/j/96097860806
Description of Event:
This workshop is an opportunity to learn more in-depth about the world of Federal funding. We will be discussing how to navigate the Federal funding infrastructure, the different funding opportunities and the different agencies that are available, as well as the benefits of receiving Federal grants and contracts.
About Eagle Point Funding:
We are the premier consulting firm specializing in non-dilutive funding sources for energy, defense, cyber security, and other deep-tech areas. We assist hundreds of companies, academic institutions, and non-profit research entities to build a systematic approach to R&D grants and contracts.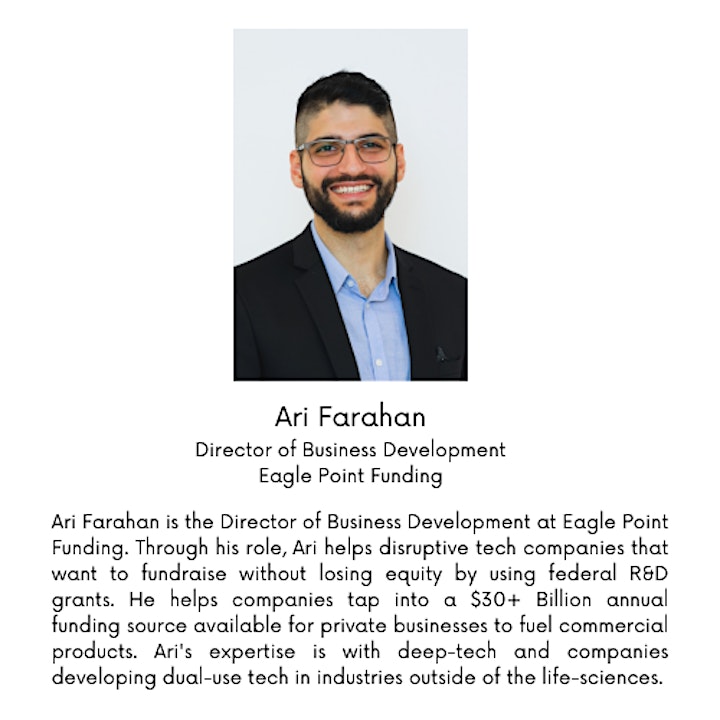 Organizer of How to Identify and Navigate Federal Funding Opportunities
Breanna Hale, 
Assistant Director, Beall Center for Innovation and Entrepreneurship
 Haleb@uci.edu