About this Event
Ever wished you could make your own personalized gifts for the Holidays?
Spend part of Small Business Saturday at Lansing Makers Network and try your hand at making a variety of unique custom gifts for your friends and family for just $20 each.
Work with our Blacksmithing department to create a unique metal ornament.
Personalize a piece of jewelry in the Jewelry Department.
Create your own handwoven ornament in the Craft Department (kid friendly activity!)
Personalize ornaments on the laser cutter.
Cast customizable ornaments in pewter.
Don't want to create your own? Shop the local artists market and bring home unique items crafted by local artisans.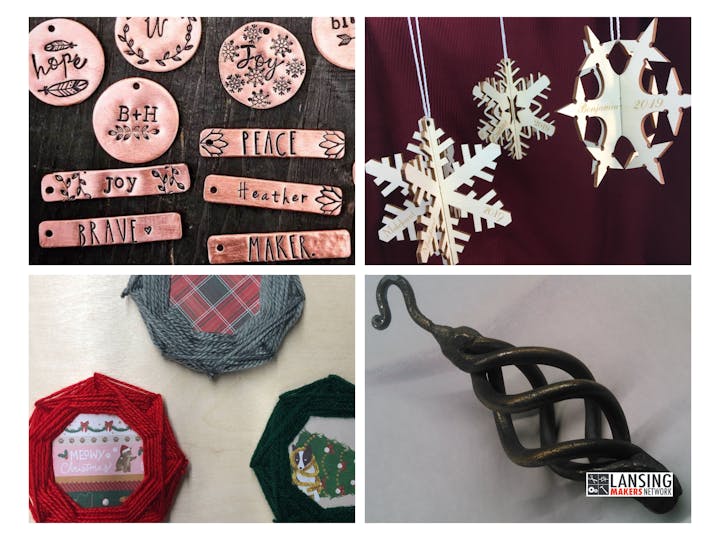 FAQS
How much does this cost?
Presales: $15 per make and take or $60 for all.
At the door: $20 per make and take or $80 for all.
What does that cover?
All teaching and supplies needed to complete the project
What ages is this event for?
18-109- minors are welcome to attend with a responsible adult but cannot be left unattended. Some activities may not be appropriate for minors.
What should I wear?
Clothing. Projects are planned so that no special clothing is required, but please note that some projects may be on the slightly messy side so your best suit is not recommended.
What if I want to do multiple make and takes?
You are welcome to complete as many as you wish but must purchase a separate ticket for each project.
How long will it take me?
All individual projects are planned so that they can be completed in an hour or less.
If I don't finish can I complete the project at home?
It depends, some projects will require special equipment such as the laser cutter or forge and must be completed on site, others such as the craft ornament will come with a project instruction sheet so that you can complete the project later if you wish or make more! In any case, if you can't complete your project on time, we'll work it out!