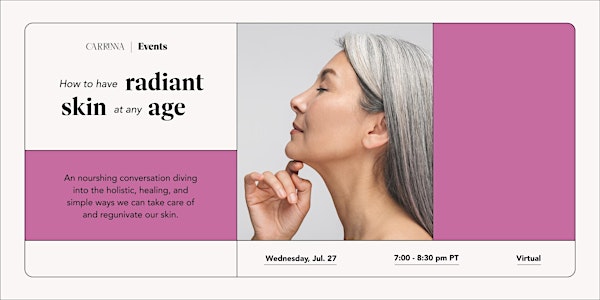 How to have Radiant Skin at Any Age
A workshop on how to nourish and care for your skin. Learn the lifestyle shifts you can make to generate an inner and outer glow. Join us!
About this event
CARRINNA is a curated platform for women over 40 to celebrate life and the aging process beautifully. Inspired by the founder, Carine Camara's personal mantra "Be your Beloved Self" CARRINNA is helping women build authentic and holistic lifestyles through workshops, guides, rituals, and recommendations on how to create reverence for oneself.
In this workshop learn actionable steps to understand your skin and essence to celebrate yourself.
Here is what to expect:
1. What are ways to nourish your skin?
2. What does it mean to wear the right colors for your skin tone?
3. What does self love mean for you and how you can express it in your skincare routine?
About Carine Camara:
Carine utilizes her years as an acupuncturist (L.Ac), spiritual coach, personal stylist and Host of the CARRINNA Podcast to help women experience more love, confidence, wellness, and radiant unapologetic joy. Carine Camara is a lifestyle guru, and founder of CARRINNA, helping women build authentic and holistic lifestyles through Style, Beauty and Wellness. Her mission is to shift the conversation around aging, and help guide women towards a path of self-love and acceptance as they move through the various seasons of their life.
To get started NOW download CARRINNA's Free E-Book:
9 Simple Style, Beauty and Wellness Tips for Graceful Aging. https://carrinna.com/