About this Event

You've been doing Digital Marketing for a while, but it's difficult to understand how customers actually think, and even harder to know how you can sell your products and services to them.
To succeed in this new age of Digital Marketing, you need every advantage to get ahead of the pack. It's not just about Likes, Follows, Shares, and Search Results anymore. To effectively maximize every part of the Marketing Funnel, you know that you have to really understand the whole experience of their user: the User Journey.
You want to work effectively with your User Experience team, or maybe even be the first to start a UX department in your company.
You want to learn everything there is to know about User Experience as well: the skills, the tools, the process, the expectations, the mindset.
Not only that, but you might have also heard of "Growth Hacking", and you want to know how you can do it yourself, just like how Silicon Valley startups like Dropbox, Airbnb, and Canva are successfully doing it.
This workshop will teach you User Experience—and Growth Hacking. Whether you're a Digital Marketer in a big brand, or within a startup, this workshop will fast-track your skills in UX, the 5th most in-demand skill to have in 2019 (according to actual user data) reported by LinkedIn last January 2019.
Book now, acquire new skills in UX & Growth Hacking, and jumpstart your business growth in 2019.

⚡️ A 4-hour workshop about User Experience & Growth Hacking for Digital Marketers, & how to use these skills right now. You'll be with up to 30 participants, learning about the ins-and-outs of UX & Growth Hacking, its processes, and how you can use it to grow your business. A sample list of workshop topics are listed below!
⚡️ The illustrated eBook (and Keynote presentation) titled "How to use UX + Growth Hacking to Drive Business Growth", worth $199, that you can take home for free, and use for your own reference. This contains all the information presented in the workshop, with worksheets, links, downloadable files, and bonus materials. E-books are available for download 1 week after each workshop.
⚡️ One free 20-minute consultation via voice or video call, for the first 5 people that purchase tickets for the workshop. I'll take a look at your digital properties, give tailored practical advice on how to grow your business using UX, and give growth hacking tips that you can act on right now. I can also look over any design you made or what UX or Digital Marketing team has done, and provide critique/advice on how to improve it.
⚡️ For interested students & freelancers: I'll personally refer you to be considered for an internship at Make, a global UX & technology agency, composed of 25+ of the best UX designers, developers, and project managers that I know.
⚡️ Free sushi, donuts, water, and coffee!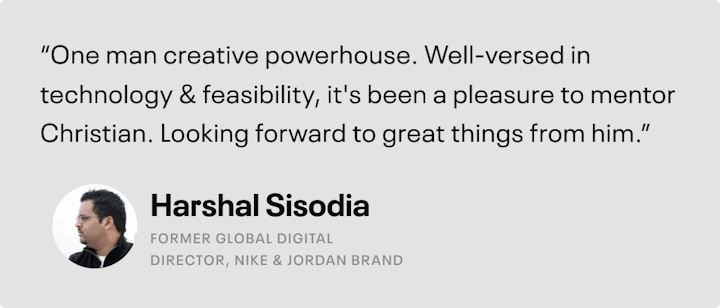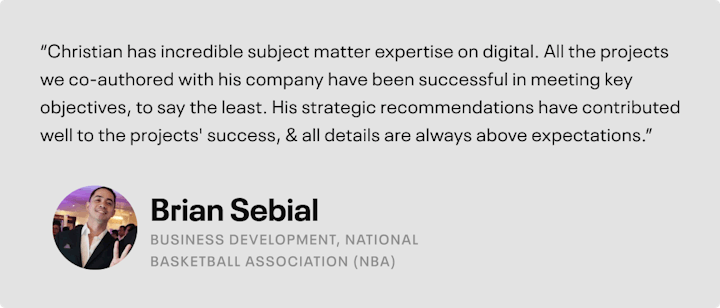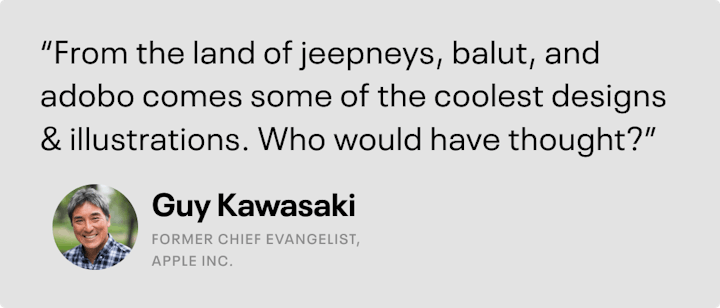 💻 1. Who will facilitate the UX workshop?
🔹 I'm Christian San Jose, a UX expert from the Philippines, and I'll be your workshop facilitator. Over the last 12 years, I've lead, co-founded or have been a partner in multiple digital marketing companies that have UX at their core (my companies include Make by Ace Saatchi & Saatchi, Jump Digital, Create.ph, & HSThree, among others).
🔹 I've given 70+ talks & workshops since 2007 — including the Facebook Digital Youth Summit (2017 & 2018), Graphika Manila, International Design Conference, and Canva Creatives Conference. My work has been featured in interviews & articles in Entrepreneur Magazine, MTV, the Adobe Blog, Abduzeedo, Envato, CNN, CBS, ANC, & even Nickelodeon.
🔹 I've hired & directly managed over 70+ UX Designers and Digital Marketers in my career, with 40+ just in the last 3 years. I've recruited, hired, managed, lead, and have been in the trenches with the best digital practitioners in the country. I've had over 300+ clients in design & digital since 2007. While leading the different teams, we built digital experiences for the biggest companies in the Philippines, including the SM Group, PLDT Group, Cebu Pacific Air, NBA Asia, Metrobank, Security Bank, 7-Eleven, Solaire Resort & Casino, & Carrier.
🔹 I am a designer and digital marketer myself. I love solving important problems through design, and building things on my own. In the past, I've done official branding, built online platforms, and grew the digital properties of the biggest personalities in the world, including Kobe Bryant, Usher, Usain Bolt, James Harden, Albert Pujols, and Dwyane Wade. I've been previously commissioned by Adobe for their global launch, and my design can be found within every commercially released copy of Adobe Illustrator CS5. I've previously won design and digital marketing awards, including the Boomerang Awards, and the top prize in the Design By Humans $10,000 competition.
🔹 Lastly, I'm trained & certified in the UX specialization by CalArts & Georgia Tech, and the Digital Marketing specialization by University of Illinois at Urbana-Champaign.
--
👨‍👩‍👧‍👦 2. Who can join the UX + Growth Hacking workshop?
👨🏻‍💻 Startup Founders, Digital Marketers and Growth Hackers!
Small to Medium Business Owners, Startup Founders, Digital Marketers, Digital Maketing Managers, Strategy and Planning Managers, SEO & Search Managers, Analytics Managers, CRM and Email Marketing Managers, Digital Agency Account Manager and Sales Directors, Ecommerce Managers, PPC Search Managers, Social Media Managers or Community Managers, and Marketing Graduates. Even full marketing teams can join!
👩🏽‍💻 UX and Product Managers!
UX Designers, Product Managers, UI Designers, UX Freelancers, UX Researchers, UX Strategists, UX Managers, Design Leads, Website Designers, Website Developers, and Design Graduates.
Whether you're just thinking of learning UX, or you're already a seasoned UX practitioner or Growth Hacker, this UX & Growth Hacking workshop will help you get the advantage you need to get ahead.
--
🎟 3. How much does your does this UX workshop cost?
All tickets start at PhP 3,490, for our Early Bird Rate (starts 3 weeks before the event). The Regular Rate is PhP 4,990 (1 week before the event).
💡 Hint: There are also "discount codes" if you know where to ask! 💬😉
--
🗺 4. Where are the workshops held, & how long is each workshop?
Address: Icon Plaza, 25th St., BGC, Taguig.
All UX workshops happen in Icon Plaza, Bonifacio Global City.
This event will run from 1pm-5pm (4 hours max), with one 15-minute break in between. We conduct our workshops in a spacious air-conditioned 70 sqm. function room, with 7 big tables, and a 60-seating capacity (though we'll only typically occupy around 30 seats!).
--
🎒 5. What should I bring to the workshop?
First of all, your whole self. Also, a laptop (limited plugs available!). For participants that don't have a laptop, it's okay! Just communicate, listen well, & participate
--
🗄 6. What are the sample UX topics that you will discuss? (The 20+ topics that we'll cover)
In both the workshop + the free illustrated eBook (worth $199), we'll teach and share with you topics like:
💠 What is UX in the Marketing World: We'll discuss the basics of User Experience, what a UX practioner does, and the overall goal of UX. We'll discuss the skills, the tools, the the expectations, and the mindset necessary to do it well.
💠 Understanding UX: Learn how UX is not just the User Interface or the App/Website itself, but how it's actually Human-Centered Problem Solving
💠 UX Process: We'll go through the iterative cycle of the UX process, from understanding business goals, emphatizing with users, ideating solutions, creating and prototyping designs, and testing the solutions with actual users.
💠 How Can Marketers use UX to Grow Revenue: We'll discuss and show actual examples how UX is practiced in the Marketing context: from local to global Digital Agencies, Startups, and Consumer Brands.
💠 How to Set Up the First UX Team in Your Company, if You're A Marketer: We'll discuss how to set up the first UX team. If you've previously outsourced UX to freelancers or companies, or if you've handled UX projects with your team's Graphic Designers, we'll provide the steps necessary to transition and properly start your own UX department.
💠 How Marketing Teams & UX Teams can Work Together: We'll discuss how to have both teams understand the value of each other, what each team should know about their shared responsibilities, and how they can be in sync and collaborate effectively in projects.
💠 AARRR! How to use UX effectively in each part of the Conversion Funnel: Acquisition, Activation, Retention, Revenue, Referral
💠 How Bad User Experience Kills Your Conversion Funnel: We'll provide examples of bad UX, so that you know what to stay away from
💠 Growth Hacking & UX: A Step by Step Guide that you can use right now.
💠 How Your Clients Can Save Millions with UX + Growth Hacking: We'll give practical ways you can save your clients (or your own!) digital marketing budget, by frequently experimenting on data-driven initiatives for growth.
💠 A Case Study on Effective Growth Hacking + UX: We'll show a Case Study of an effective Growth Hacking + UX initiative was applied, for a local company.
💠 How to Become a Full-Fledged Growth Hacker: The differences, adjustments, and improvements you can do, as a Marketer, to become a Growth Hacker.
💠 Growth Hacking + Design Thinking = Growth Design Sprints (How to Stop Planning and Start Executing)
💠 How to Do a Half-Day Growth Design Sprint Workshop in Your Company (+Examples for each step)
💠 How to Hire a Growth Hacker; and How to Hire a UX Specialist: If you're thinking to build up both teams, this is what you should know when recruiting, and hiring.
💠 How to Transition to a UX Career if you're a Digital Marketer: If you're curious, and you want to fully transition, we'll provide you the steps.
💠 5 Growth Hackers in the Philippines you should follow.
--
🔰 I'll also share with you exclusive freebies, resources, & bonus content!
📒 Exclusive access to my personal list of the best UX & Growth Hacking resources & articles, browser extensions, and recommended free and paid apps that will speed up your process.
📒 Link to download all of the custom Figma UI templates & designs shown in the workshop, that you're free to use for your own projects. Also, link to download 25+ of the best royalty-free UI Kits that I have.
📒 My personal list of the best UX and Growth Hacking books, and where to buy them in Manila. From books like "Don't Make Me Think" by Steve Krug, to books like "Hacking Growth" by Morgan Brown and Sean Ellis
📒 Q&A: I'll answer all your questions in an in-depth, 20-minute Question & Answer. And we can extend if there's enough time!
📒 And much, much more!

🗓 WHEN: Feb 23, 2019, Sat., 1pm-5pm
📍 WHERE: Icon Plaza, BGC, Taguig 🇵🇭
🐦 Hurry! Only 30 seats in this workshop! Early bird rates are only until Feb. 17, 2019.