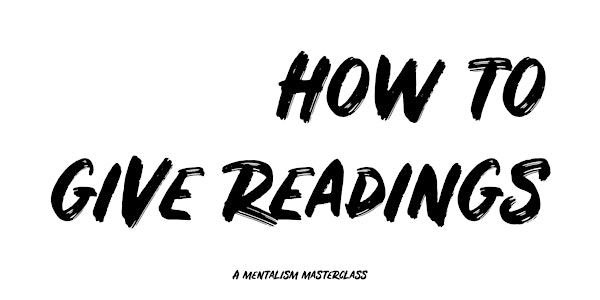 How To Give Readings (for magicians)
A Mentalism Masterclass On Readings
Refund Policy
Contact the organiser to request a refund.
About this event
Giving a good reading is one of the most sought after skills in magic and mentalism. The ability not just to know what someone is thinking, but knowing everything about their personality, their hopes, dreams, past, and future. It's a skill that takes your magic and mentalism from clever tricks to deeply impactful and personal.
So much teaching in mentalism is dedicated to it, but the truth is most of it is written by people who have never actually given a reading.
In 2019 Anton gave 5000 readings. In 2020 Anton gave 8000 readings. These readings took the form of in person, SMS, telephone, and online readings, not to mention in his internationally touring mentalism show.
We tell you this not to brag, but so you know you can trust the information you are about to learn is real world advice gained from thousands of performances.
On March 20th Anton will be giving a fully interactive online lecture where he will share everything he knows with you. Pulling back the curtain and revealing the whole process.
It's all the info you've ever wanted to know about readings, minus the bullshit. You'll learn:
How to approach readings
A step-by-step guide to structure a reading
How to effective incorporate readings into your magic
How to practise
How readings can revolutionise how you perform
Ways you can make extra money from readings
There'll also be a full Q&A where you can ask anything you like. It's fully interactive, and Anton's whole approach to reading will be on full display. Nothing hidden, and all questions welcomed. This is the mentalism masterclass you've been waiting for.
Run Time: 2.5 hours (approx)
The lecture will be available for catch-up for 7 days after broadcast
MORE ABOUT ANTON
Anton is the pen name of a full-time professional mentalist. He has toured internationally with his solo theatre shows, and performed for the biggest companies in the world.
So why a pen name? Using performing names on magic releases is great of name recognition for sales, but again if you think like an audience member, if you google the performer and every result for them is links to buying how they do their tricks, the secrets are so much closer to being obtainable. And for mentalists or other mystery performers who are attempting to create a length and plausible pseudo-explanation it sort of murders any of the mystery.
Just look at how useless Osterlind's Stainless Steel Blindfold is that when you google 'metal blindfold' every result on the first page is for magic dealers selling a stainless steel blindfold that promises you will be able to see whilst wearing it. Magic dead.
So for now, Anton. If you know his real name (I'm sure you do), just keep it away from this event please.