How To Get Your GROOVE Back After Baby - Workshop and Mini-Retreat
Location
Inspirit Yoga Studio
7575 Kingspointe Pkwy
#21
Orlando, FL 32819
Description
How To Get Your GROOVE Back After Baby – Workshop and Mini-Retreat
Friday, Oct. 17, 10 am- 2pm, Orlando, Inspirit Yoga Studio (near Orlando Convention Center)
For: New and expecting moms in the Orlando area.
October 4, 2014 – Orlando, FL - New and expecting moms in the Orlando area will have a chance to get all their postpartum questions answered at Sher Pelvic Health's "How to Get Your GROOVE Back After Baby Workshop" on Friday, October 17, from 10am to 2pm.
Workshop speakers are top international women's and pelvic health experts coming to Orlando from all over the U.S. and Canada. Experience strategies to feel revitalized, self-loving sexually, and luminous. Go beyond kegels to stop leaking when you jump. Become a "stronger mommy with a flatter tummy." Get your body, GROOVE, and sexy back! Attendees are encouraged to bring friends, and snacks will be served in a relaxed, fun atmosphere.
Tracy Sher, a.k.a. "The Pelvic Guru" and founder of Sher Pelvic Health & Healing, LLC highly recommends the workshop because "There's so much information missing during pregnancy and after baby regarding our bodies. My patients say regularly that they wish someone had told them the simple things I share. I decided to start doing these community workshops so that women could be more proactive about their bodies."
AGENDA:
10-10:20 – Snacks, Mingle, Intros
10:20-10:40 Core Breath/Relaxation for Pregnancy/ Postnatal
10:40-11:10 Top Secrets About Your Belly, Back, Bottom, and Pelvic Floor After Baby You Should Know (and no one tells you).
11:15- 12:30 Sexual Luminosity Workshop by sex experts - National Workshop brought here in a condensed version. Exude sexual and self-confidence.
12:30-12:40 – Break/snacks
12:40- 1:20 How to Get Rid of Mommy Tummy the Right Way and Other Fitness Tips
1:20- 1:40 Relaxation Series
1:40-2:00pm – Final Panel/Wrap-UP
The "How to Get Your GROOVE Back After Baby Workshop" will be held at Inspirit Yoga Studio
 7575 Kingspointe Pkwy 
#21 
Orlando, FL 32819.
Register for this event and see FAQ's: https://postbabygroove.eventbrite.com
or contact Tracy or Alma at info@sherpelvic.com or 407-900-2876.
Offering 30% off with the promo code: FBPROMO
###
Sher Pelvic Health & Healing, LLC is a private pelvic health practice providing progressive and specialized treatment for complicated pelvic, spinal, and abdominal dysfunction. http://www.sherpelvic.com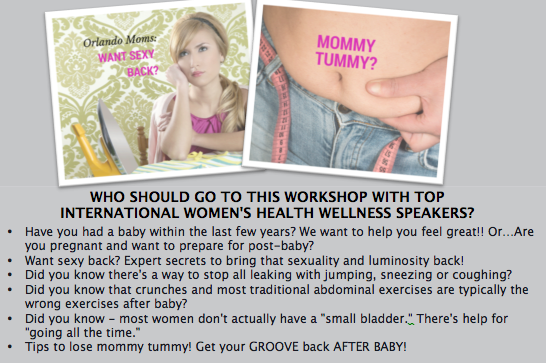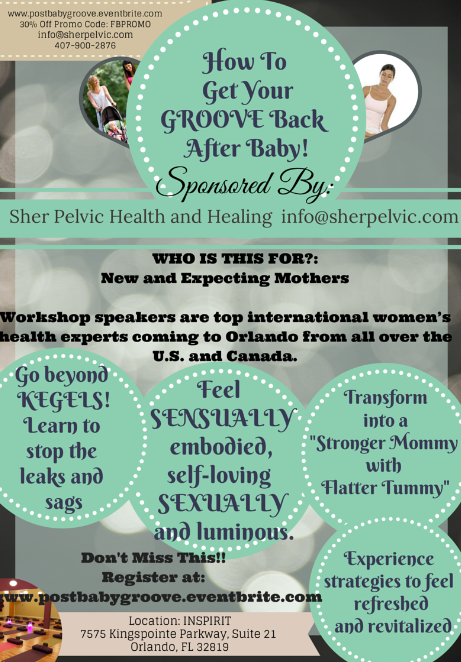 The core elements required for getting your POST-BABY GROOVE back: your SEXY and FEMININE GROOVE, your BODY'S GROOVE, and finding the NEW GROOVE you need to balance being a mom with the rest of your life..
This live experience was designed BY women FOR women, and we've corralled the world's leading experts in their fields when it comes to all things post-baby mommy groove.
TOP INTERNATIONAL WOMEN'S HEALTH SPEAKERS:
KIM VOPNI (Vancouver, CA) Bellies, Inc.
DUSTIENNE MILLER (Boston, MA) Your Pace Yoga
TRACY SHER (Orlando, FL) Sher Pelvic Health and Healing and Pelvic Guru™
JESSICA McKINNEY (Boston, MA) Marathon Physical Therapy, Women's Health and Pelvic Health
HEATHER EDWARDS (Asheville, NC)
CHELSEA WAKEFIELD (Asheville, NC) Luminous Woman Retreats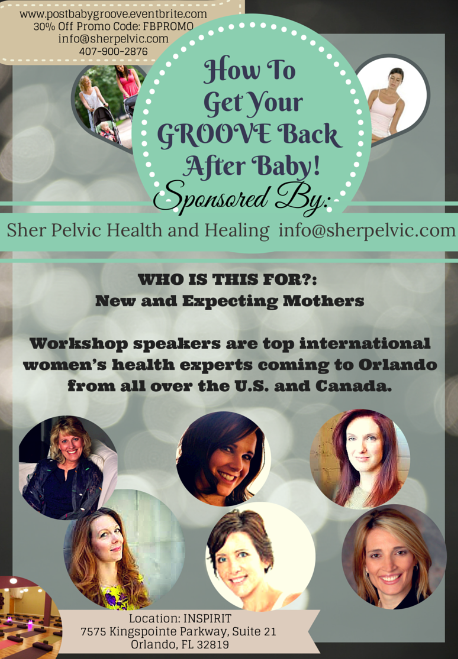 FAQs
Where can I contact the organizer with any questions?
info@sherpelvic.com or call 407-900-2876
What should I wear?
Wear comfortable clothes (workout or casual) that allow you to move, breathe, and feel good!
Should I bring my kids or just come solo?
This is a mini-retreat for pregnant women and moms. It's best if you can get a babysitter and go for YOU - alone (or with friends). Babies and infants are welcome, but we will not be responsible for childcare. We extend a complimentary ticket for your babysitter to this workshop. Due to the nature of some of the discussions (sexuality and anatomy) it may not be appropriate for "little ears". We understand that you may need to breastfeed or pump and we will make those accomodations available for you.
Where is it located?
Inspirit Studio - Voted the number one yoga studio in Orlando 2014. Here's a link: http://inspirityogastudio.com/ (The location is near the convention center and I-Drive in Orlando).
Did you know there are two events on the same week you can attend? Here's the link for the Sex, Chocolate, and Your Pelvic Floor evening event: https://orlandopelvicnight.eventbrite.com