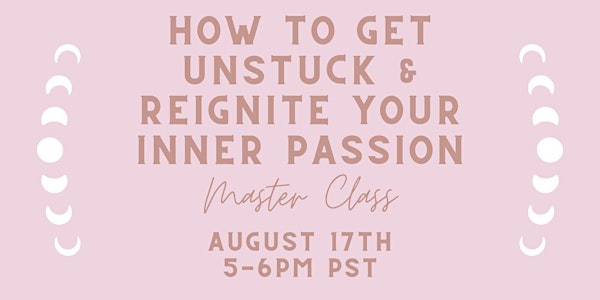 How To Get Unstuck & Reignite Your Inner Passion Master Class
This master class will help you to: + Uncover what is keeping you stuck + Reconnect with your true self + Live with passion and purpose!
About this event
ARE YOU READY TO GET UNSTUCK SO THAT YOU CAN BEGIN TO MOVE FORWARD TOWARDS YOUR MOST FULFILLING LIFE?
ARE YOU READY TO GET CLEAR ON WHAT YOU ACTUALLY WANT (NOT WHAT SOCIETY HAS TOLD YOU YOU SHOULD WANT)?
ARE YOU READY TO FEEL MORE CONNECTED, ALIGNED, AND FULLY ALIVE IN YOUR LIFE?
ARE YOU READY TO GAIN THE CONFIDENCE THAT YOU NEED TO BEGIN TO SHARE YOUR MUCH-NEEDED GIFTS WITH THE WORLD?
BENEFITS OF THIS FREE 60-MINUTE MASTER CLASS!
#1
HOLISTIC LIFE AUDIT
Cultivate awareness and pinpoint where you are stuck.
#2
RECONNECTING WITH YOUR TRUE SELF + LIVING AN AUTHENTIC LIFE
Learn the 3 steps you need to take to get clear on what you actually want and live a life that is uniquely yours!
#3
LIVING WITH PASSION & PURPOSE - THE 9 AREAS OF EMPOWERMENT
That will show you where you need to take action so that you can live your life with passion and purpose!
#4
KELLY'S UNIQUE METHOD
Learn 3 of the 6 steps of Kelly's signature Soul Spark Method to help you to find a deeper understanding of yourself and what you need to reignite your inner passion for life!
Are you ready to live a life that lights you up?
Join us!