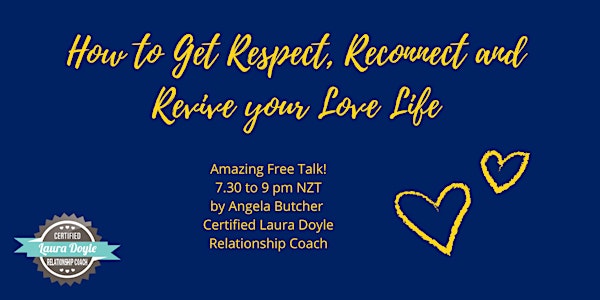 How to Get Respect, Reconnect and Rev Up Your Love Life - Free Talk
Women, is your relationship not all you want it to be? You can turn it around by using these amazing proven skills!
About this event
Come learn and practice these proven skills that restore intimacy, passion and peace to your marriage/relationship.
In this Masterclass I will show you:
* 3 key secrets for empowering him to act like a man and take initiative.
* 3 critical ways to express your desires and make your relationship peaceful and easy again.
* A few key steps you can take today to feel more confident and more loved.
* How to stop feeling like his mother and feel like his lover again.
* What to do when there's an affair, he's left, or he says he no longer loves you or is attracted to you.
Women, grab yourself a cup of tea and a notebook and listen to my amazing webinar!
Register here
PS: This webinar is in New Zealand Standard Time.