Are you ready to lead your company in 2021?
About this Event
The year 2020 was hard; there's no sugarcoating it. This year won't be any easier: You're either making up for lost time or setting the button for overdrive to catch up on outstanding orders. How you approach it all depends on you. You can let it overtake you or you can take the reins and ride with purpose through the obstacles. Whether you are in production support or the chief executive officer, you have a say in your company's performance and team culture. It's all about how you show up for your day and contribute.
Wondering how to get started? Catalyst University is back in action on Thursday, January 21, 2021, from 3:00 p.m. to 5:00 p.m. EST with a jam-packed booster session full of enough firepower to jettison you through what you are currently facing. Carey Nieuwhof, bestselling author and consultant, will be headlining our afternoon and delivering an awesome presentation on the "Early Signs of the New Burnout." Through your participation, you'll learn how to recognize when you've pushed yourself over "your limit" and important tools to manage your stress so you go to the next level with the right resources.
Join us to hear from Carey, plus an interactive panel on "Establishing Good Habits For Self and Work," because top leaders realize the importance of self-care for themselves and others. We'll be joined by:
•B.T. Harman – Atlanta-Based Creative Content Strategist and Host of the 'Catlick' Podcast
•Gretchen Slenk – Positive Habit Maker at Southwest Michigan First
•Damon Allison Sr. – Corporate Talent Acquisition at Zeigler Auto Group
How To Get in on the Action
Catalyst University 2020 ticket holders will receive a link to the event with their paid admission. A member of the Southwest Michigan First team will reach out prior to the event with the information.
If you didn't attend Catalyst University 2020 and want to be a part of it, it's not too late. Your investment of $35 will get you (or someone you care about if this is a gift) access. Register today!
Catalyst University is thoughtfully curated for you by Southwest Michigan First, the economic development catalyst headquartered in Kalamazoo, Michigan.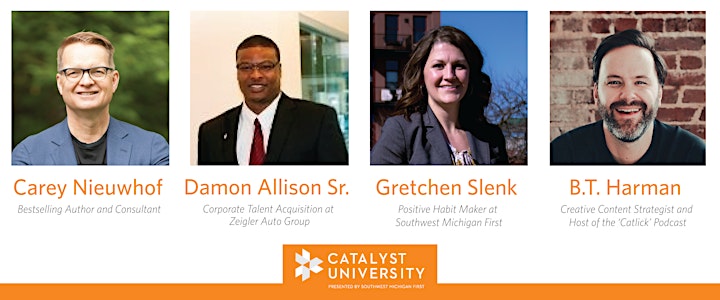 Date and Time
Location
Refund Policy