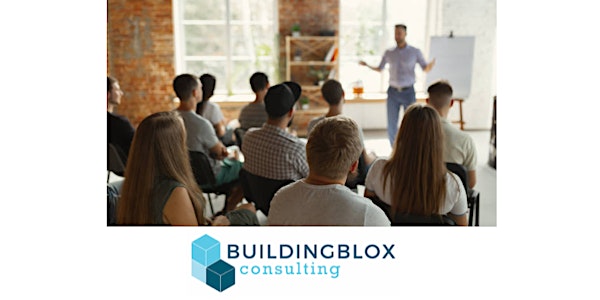 Multiple dates
How to Get Big Gifts in Uncertain Times: BloxU 2023
Sign up for 1, 2 , 3 or all 4 of our Zoom trainings to make 2023 your best fundraising year ever!
By BuildingBlox Consulting
Date and time
January 24 · 9:30am - March 8 · 11:30am PST
Refund Policy
Contact the organizer to request a refund.
Eventbrite's fee is nonrefundable.
About this event
Session 1: Case for Giving - Inspire Generosity - Tuesday, January 24, 2023 - 9:30-11:30 AM (PST)
Is it difficult to articulate your organization's work in a way that is inspiring?
Finding it challenging to clarify your organizational messaging?
In this session we will work on the fundamentals of developing a case for giving that is clear, concise, and compelling. We'll discuss the core components of building a 60 second master narrative and help you tell your story in a way that fosters connection to your vision and inspires generosity.
Session 2: Case for Giving - Tailoring Your Narrative - Wednesday, February 8, 2023 - 9:30-11:30 AM (PST)
"I don't know what stories to tell so many different types of donors I meet."
"I'm struggling to train my team and volunteers to feel comfortable, confident and capable when speaking to donors."
In this session we will build off of the fundamentals learned in the Session 1 Case for Giving. Working with your master narrative and inspiring introduction, you'll receive expert feedback from the BuildingBlox team, and supportive hands-on-practice to help you tailor your organization's story for any type of donor you encounter, inspiring connection and yielding audacious generosity.
Session 3: Ambassador Training - Wednesday, February 22, 2023 - 9:30 AM-12:00 (PST)
We hear it all the time:
"I don't know how to talk to donors."
"What if they say no?"
"I'm afraid to make the ask."
But if you don't ask, your organization won't be able to do its lifechanging work.
The good news is – it's easier than you think. We will show you how to use the skills you already have to be an effective advocate for your organization.
In this session you'll role play talking with a donor and get feedback from experts who have raised a ton of money. When you meet with donors, you'll be confident, they'll be comfortable, and your organization will have the funds it needs to do its best work.
Session 4: Getting Your Board on Board – Wednesday, March 8, 9:30 -11:30 AM (PST)
Your board is passionate about the good work your organization does but is not excited about fundraising. It doesn't have to be this way.
We will teach you how to:
• evaluate your board's strengths and weaknesses
• recruit board members who make a big difference in your fundraising
• clarify leadership's roles and responsibilities
• create a culture that celebrates giving and asking.
Your board will be ready to ask for big gifts and eager to help any way they can.
The workshops are designed for nonprofit executive directors, development and communications staff, and board members.
Cost: $100/person/session, all four session for $300/person
After you register, you will receive a confirmation email with a participation link