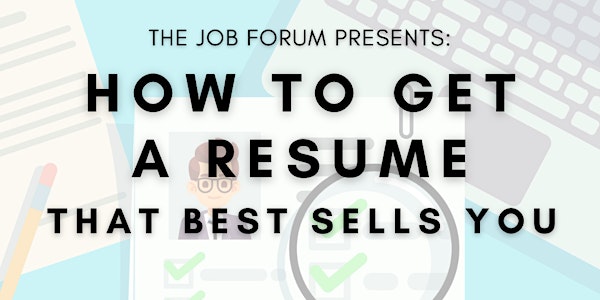 How to Get a Resume That Best Sells You
Join us for one of our most popular resume workshops!
Refund Policy
Contact the organizer to request a refund.
Eventbrite's fee is nonrefundable.
About this event
Join The Job Forum (sponsored by the SF Chamber of Commerce and LinkedIn) for a virtual workshop and Q&A session on developing impactful resumes. This session is offered for free to help job hunters in the Bay Area.
Thursday, January 12 at 6pm on Zoom.
Our goal is to help you plan and develop resumes which most effectively promote your unique skills and accomplishments for jobs you seek.
The session will be presented by an experienced team of Job Forum volunteers, leveraging a diverse range of experience and expertise, from hiring managers and project management to career management and counseling
An array of very helpful resources will be provided for you to take away from the session as well.
Key topics will include:
I. Establishing job/career objective(s)
II. Your resume – key components
III. Resume formats
IV. Customizing your resume for each job.
V. Special cases, e.g. contract consulting, job gaps
VI. Resume tips - format, style, length, language, spelling, etc.
VII. Using LinkedIn
VIII. Q&A
IX. Links to resources
Once you are registered, you will receive a Zoom link closer to the start of the event.
Please consider making a small donation and you instantly become one of the helpers who raises your hand and helps those who need work right now. https://thejobforum.org/support-us/
The Job Forum helps people find work. The Job Forum's new virtual workshops are offered by our volunteers every Thursday. The free workshops help job hunters, sole practitioners, small and mid size businesses, consultants, project workers, and gig workers so all can find more work and work better; even in this challenging economic time. Please help The Job Forum by making your donation to support the workshops and reach people looking for work so we can keep offering workshops. THANK YOU for your support!
In signing up for our Job Forum events you agree to join our email list to hear about future Job Forum events and to receive The San Francisco Chamber of Commerce e-newsletter of events.