Description
Sleepless Nights? Discover my Sleep Success Formula in just 1 day workshop and make the ultimate desire for Sleep, Health & Happiness a reality!
We are living in an exceptionally fast paced world where there is never enough time.
As you might already know, good quality sleep is one of the most important ingredients to living a healthy, happy and successful life free of worry and pain.

We are all living busy lives. As people can be co-dependent in relationships, we are now also becoming co-dependent with work and getting stuff done that we lose focus on our lives. All our time goes into getting as much done as we can, that we often overlook one of the most crucial elements of life, sleep.
While we are busy keeping ourselves busy, we forget to slow down and try to use the time we have to get things done. We bring all these thoughts and emotions to bed with us trying to figure them out and keeping the brain awake. Then you have the problem of feeling stressed, weak and exhausted.
So why join 'How to get a good night's sleep' workshop?
​Are you anxious and find it difficult to sleep at night? Do you get jealous of your soundly sleeping partner? Do you hit the snooze button more than you can count?

If your answer is yes, then this workshop is for you!!! I can show you EXACTLY how you can empower yourself and your family by educating and inspiring you to take some action to improve your family's sleep, overall health and happiness.

"Sleep is that golden chain that ties health and our bodies together" — Thomas Dekker
Here are some outcomes you will gain from this workshop:
How sleep impacts our health: Understand not only why sleep is important for our physical health but equally as important for our mental and emotional well-being.
The 4 Pillars of Health: Diet & Nutrition, Exercise & Movement and Stress Management are important for our health - this includes emotional detox and EMF detox from electrical devices. In this workshop we will show you how all this ties in with sleep and why sleep is the foundation of our health.
Your own Toolkit: You will make your own sleep blends to take home; aromatherapy sleep spray, magnesium flake bath salts infused with aromatherapy oils and an inhaler stick, perfect to carry with you all day in your pocket or handbag.
Manual & Workbook: Each contains important information covered on the workshop, easy to follow aromatherapy recipes, exercises and relaxation techniques.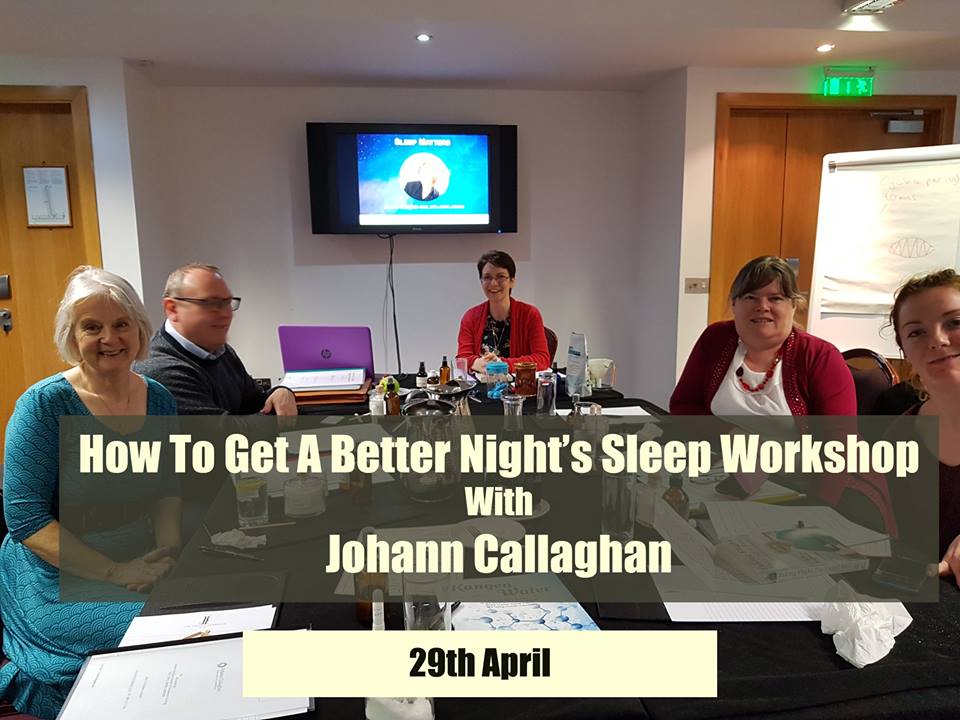 Here's what some people had to say who attended previous workshops:
Tracey Mc Cann: Really enjoyable day, great information! Thank you, you are a natural.

Brian Chittick: Johann has a very warm personality and a real passion for what she does. She makes it a pleasurable experience to learn about the different elements and areas that will help us.

Liz Valloor: Thank you Johann for giving so much today.

Carol Mc Cann: Really enjoyed the workshop and meeting other people and sharing idea's. Johann, thank you. I found it easy to understand and you communicated it very well and the presentation was excellent.
To find out more information, dates and venue click here:
>>= http://tiny.cc/sleepworkshop =<<