Description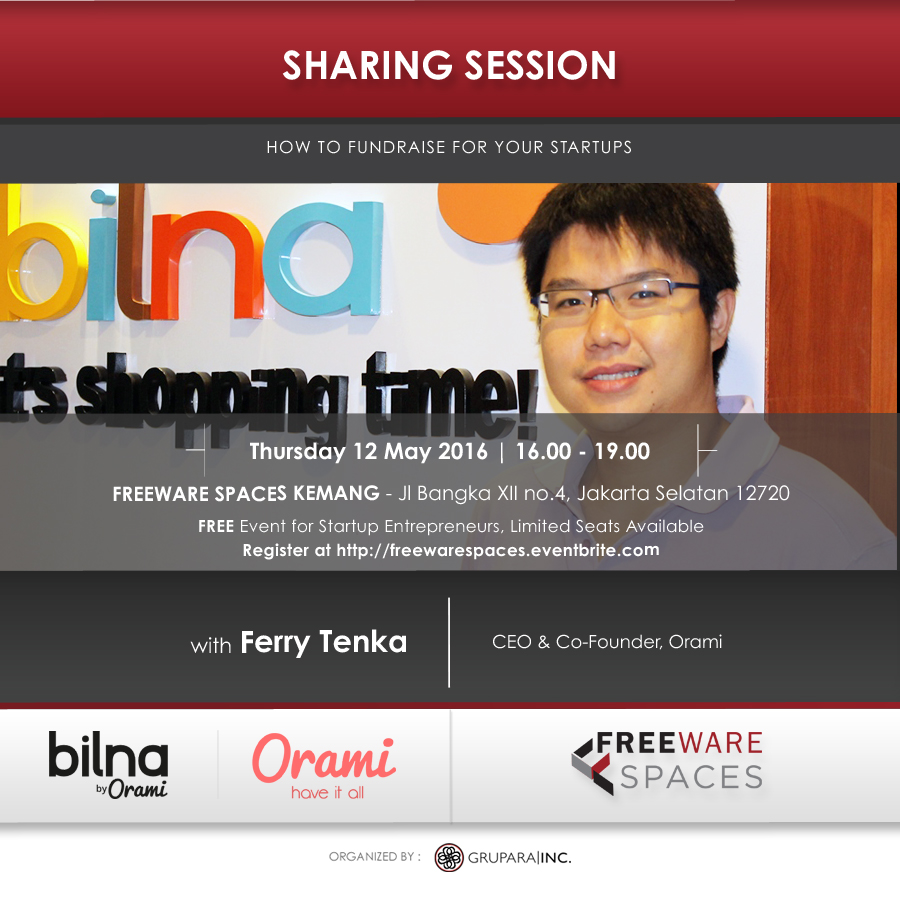 GRUPARA INC Presents:
"How To Fundraise for Your Startups"
Sharing Session with Ferry Tenka (CEO & Co-Founder, Orami)
at FREEWARE Coworking Spaces Kemang
Date / Time : Thursday, May 12th, 2016 @ 4pm
Location: FREEWARE SPACES KEMANG
Jl. Bangka XII no 4
Jakarta Selatan 12720
CP: info@freewarespaces.com
16.00 - 16.50 : Registration & Networking
17.00 - 18.30 : Sharing Session with Ferry Tenka
18.30 - 19.00 : Networking & End of Event
TRY WORKING AT FREEWARE SPACES KEMANG FOR FREE ON THE DAY OF THE EVENT STARTING 08.00 AM EMAIL ICHA@FREEWARESPACES.COM FOR DETAILS
Who is Ferry Tenka?
He founded Disdus back in 2010 and sold it to Groupon and became the CEO of Groupon Indonesia. Later on left Groupon and founded Bilna, Indonesia's largest baby e-commerce platform, in 2012. Recently Bilna got mergered with Moxy and became Orami which raised $15 million last February 2016 from prominent investors such Sinar Mas Digital Ventures, Gobi Partners, Eduardo Saverin (Co-Founder of Facebook), Ardent Capital, and Velos Partners.