Description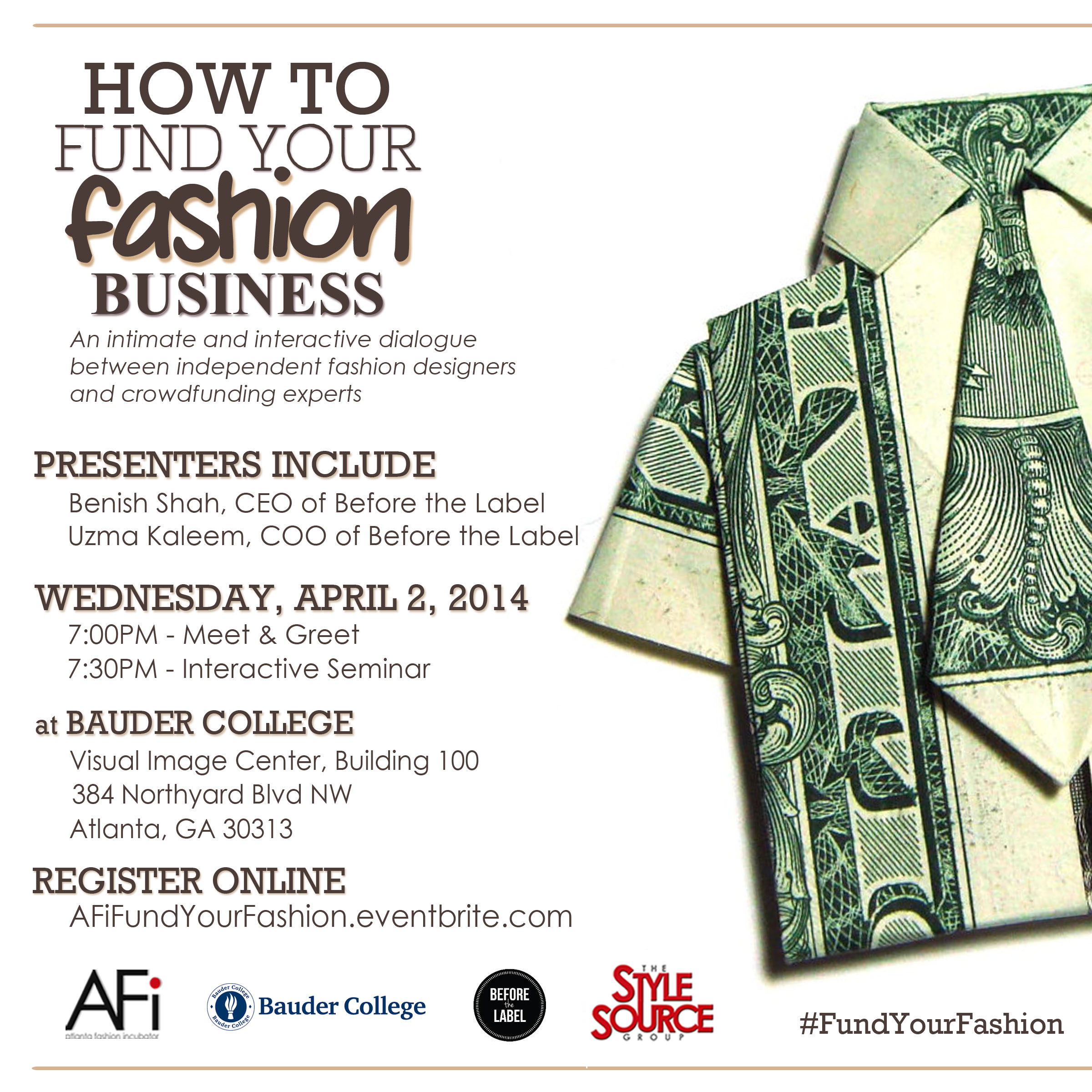 How to Fund Your Fashion Business is powered by the Atlanta Fashion Incubator and the Style Source Group, and will be presented by Before the Label as a virtual seminar and discussion between fashion designers and crowdfunding experts. Through the seminar it is our hope that fashion designers and fashion businesses will gain valuable and practical insight regarding alternatives to traditional funding.
Presenters include:
Benish Shah, CEO of Before the Label

Uzma Kaleem, COO of Before the Label
Through the discussion we'll cover:
Non-traditional fashion business funding

How crowdfunding can benefit you

Keys to a successful crowdfunding campaign
Doors open at 7:00PM with an informal meet-and-greet. You are encouraged to bring your business cards and/or portfolio in order to get connected with other professionals and entrepreneurs. The seminar presentation will begin at 7:30PM.
---
About the Atlanta Fashion Incubator:
The Atlanta Fashion Incubator is a non-profit resource center working to ensure emerging entrepreneurial fashion design companies grow into self-sustaining businesses. AFi's goals are to support and retain design talent in the South, to celebrate fashion as a creative art form, and to encourage size diversity in the fashion industry.
About Before the Label:
Before the Label is where people move fashion forward by supporting what they love. Before the Label allows fashion designers to bring fresh designs directly to the public, before the label is sewn on. The community supports a design by funding it, and the designs that reach their funding goals are brought to life. By producing only what customers support, customers become an empowered buyer and we give a voice to the community to create demand in real-time and to define what is really in fashion without creating excess and waste.
About The Style Source Group:
The Style Source Group is a full-service public relations and brand management firm. Since its establishment in 2010, the Style Source Group has helped emerging fashion businesses transition from hard-to-find to renown through the development and implementation of uniquely tailored communication initiatives.

Organizer of How to Fund Your Fashion Business