How to Fill a Room When No One Knows Your Name - Facilitated by Jonathan DeCuir

Multiple Dates
Event Details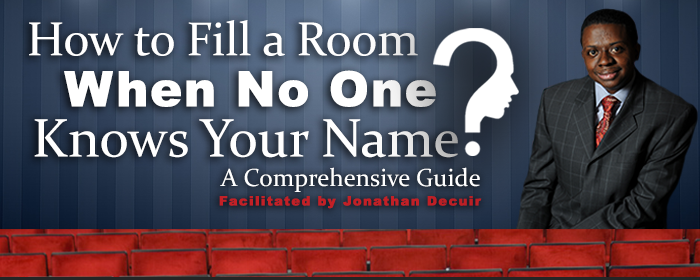 Ever struggle with filling a room for your event or concert?
Do you have goals to take your craft, artistry, or concert
to the next level?

Don't miss this SPECIAL workshop designed to teach you
principles that guarantee a full room every-time!
Saturday, March 23, 2013 9:00am - 3:00pm
Don't miss our special guest speaker from 12:00pm - 3:00pm
who will go over:
How to Raise Money When No One Knows Your Name
Register Now!
---------------------------------------------------------------------------------------------------
Jonathan DeCuir is dedicated to enthusiastic and dynamic teaching/coaching that helps others to understand the importance of character development, personal growth, and building relationships. Wise beyond his years, Jonathan inspires people across religious, political, and cultural boundaries to cultivate productivity in an ever changing society. As both student and teacher, Jonathan embodies maximizing the moment. Releasing himself from limitations, he approaches both music and life with hard work, patience and persistence. He influences others to both celebrate small accomplishments and persevere through challenges or seasons of disappointment. In doing so, one can embrace all that life offers in preparation for the opportunity to fulfill purpose. He is an example for others to imitate, whatever they are striving to become.
Have questions about How to Fill a Room When No One Knows Your Name - Facilitated by Jonathan DeCuir?
Contact the organizer
How to Fill a Room When No One Knows Your Name - Facilitated by Jonathan DeCuir