Event Information
Refund Policy
Refunds up to 7 days before event
Description
For Parent & School-based Educators
Explore the concept and importance of Self-Directed Education (SDE), and what it looks like at different ages and in different settings. What is SDE? What does it mean to facilitate self-directed learning? What is the role of the facilitator relative to the role of the learner? How do you deal with goals you have for the learner, vs. the goals they have for themselves? How do you deal with the "baggage" that can come with being both parent and educator? How do you facilitate learning in areas you are not an expert in yourself?
In addition to discussing general concepts, we will leverage concrete examples from the experience of everyone attending to increase our understanding and improve our own practice.
You will leave with: Strong confidence to partner with learners; A clear vision of what SDE means to you in your personal context; Ability to advocate for SDE; Renewed vocabulary and valuable tools to support SDE.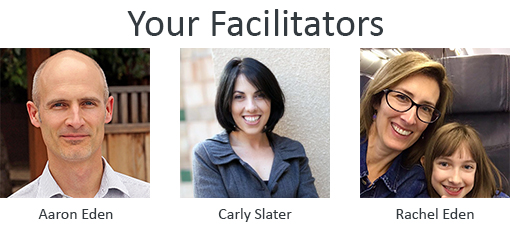 Aaron Eden is an international advocate and catalyst of Self-Directed Education. He is Co-Founder of Eliad Group, an education transformation consultng firm, that works with schools, families, and learning communities around the world to re-humanize education towards a sustainable future. He lives with his family in Monterey, CA.
Carly Slater is a master facilitator, connector, and coach. She crafts and supports environments where people can be their best selves, whether in homes, schools, or businesses. She lives with her family in Seattle.
Rachel Eden (Aaron's sister!) is a homeschool parent, a certified parent coach, and a recovering school teacher. She coaches families to build relationships of trust and honest relating, and lives with her family on Bainbridge Island.
Date and Time
Location
Refund Policy
Refunds up to 7 days before event