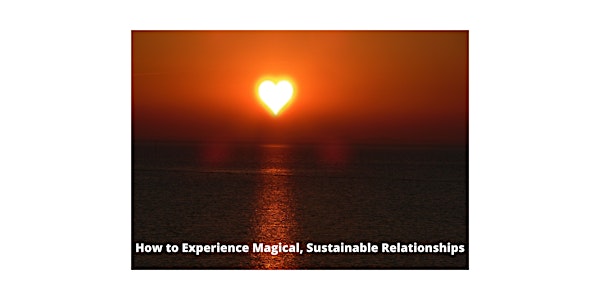 How to Experience Magical, Sustainable Relationships
We are going to discover tools to help build and sustain harmonic relationships where all parties feel understood and significant!
About this event
Despite growth, we sometimes are not able to keep our focus on the main thing due to neglecting to heal our past. We thought we were done with our past, but our past isn't done with us...
It's very possible that this detail is keeping your current relationship from being full of passion, excitement, adventure and spontaneity.
Perhaps it is a cycle of the same relationship just with a different person...
I have heard similar frustrations from SO many people which led me to schedule this Masterclass!
It is my desire to equip you with tools to:
Attain a relationship with deep emotional connections
Confidently fee accepted
Be aligned, supportive and compliment each other
Experience passion, adventure and excitement
But it gets better...
I will be giving away the following Trainings as a Bonus to all Masterclass registrants:
Power of Words
Peace in the Storm
Those who attend the live Masterclass will receive these additional Bonuses
Relaxation to Rejuvenation Guided Meditation
Relaxation to Sleep Guided Meditation
Disconnect to Reconnect
How to get Back Into Your Body Exercise for Women
and additional bonuses announced at the Masterclass
Time is of the essence.
Make the decision to participate in "How to Experience Magical, Sustainable Relationships by registering NOW.
P.S. Feel free to share the link for this Masterclass with others you think would also like to experience vibrant, sustainable relationships.