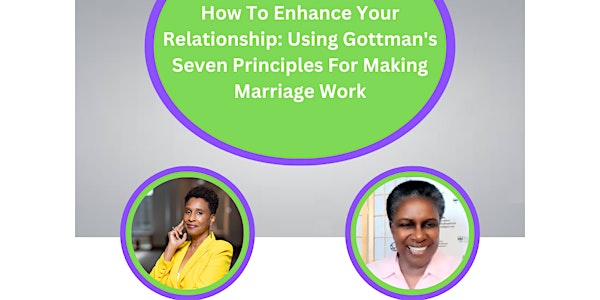 How to Enhance Your Relationship
How to Enhance Your Relationship Using Gottman's Seven Principles for Making Marriage Work
Refund Policy
Contact the organizer to request a refund.
Eventbrite's fee is nonrefundable.
About this event
How important is your marriage? Do you continue to fall in love?
As a couple do you lack romance, intimacy, friendship, fondness, and admiration for each other. Are you able to solve your problems constructively? Can you practice Forgiveness or are you Stuck?
Join our virtual workshop which will provide structure, motivation, and accountability to help you in your relationship. This workshop will help soften the entry into working on your relationships and getting help that your desire. We will provide a strong foundation and a great opportunity for couples to learn skills that can enrich their relationship through a lifetime together.
This workshop is not a substitute for therapy.
Learning Objectives
On completion of the workshop participants will be able to:
• Apply Gottman's Seven Principle in your relationship.
• Discover the importance of Forgiveness and how powerful it is.
•Explain how the ability to predict divorce can provide hope for improving your marriage.
• Describe an emotionally intelligent marriage.
• List reasons to work to save your marriage.
Speakers:
Lena Jackson-Lynch, Ph.D., CFLE, is President & Founder LJ2, Inc. Family Education & Professional Development.
Barbara Johnson, LPC-S, MAC, CCTP, is in Private Practice (Katy Family Solutions).
Details
Who Should Attend:
All Couples, Pre-engaged, premarital, and married couples, who wish to enhance a good relationship, and those needing help to become unstuck in their relationship. We encourage both parties be in attendance. Family Life Educators, Licensed Professional Counselors, and Social Workers.
Date: February 25, 2023
Time: 11:00am to 1:00pm CT
Cost: $125.00 per couple plus training materials (optional)
Where: Virtual Workshop on Zoom
Language: English
Refunds: You can receive a refund until one (1) week prior to the training.
Charity Donations: For every event, we donate one meal to Feeding America®.
For attending you receive:
• Training materials
o Agenda
o Resources and reference links
o How to Enhance Your Relationship Handout
o Inventories/Questionnaires
o The Seven Principles for Making Marriage Work (Revised 2015) – additional cost
o The Seven Principles Couples Guide - additional cost
• Completion Certificate
If you have questions or concerns, please email Dr. Lena Jackson-Lynch at lena@lj2inc.com, or Barbara Johnson at info@katyfamilysolutions.com.
This is a LJ2, Inc. Family Education & Professional Development event in cooperation with Katy Family Solutions.