How to Enhance Longevity & Heal Disease with Living Foods

Tuesday, September 9, 2014 from 7:00 PM to 9:00 PM (EDT)
Event Details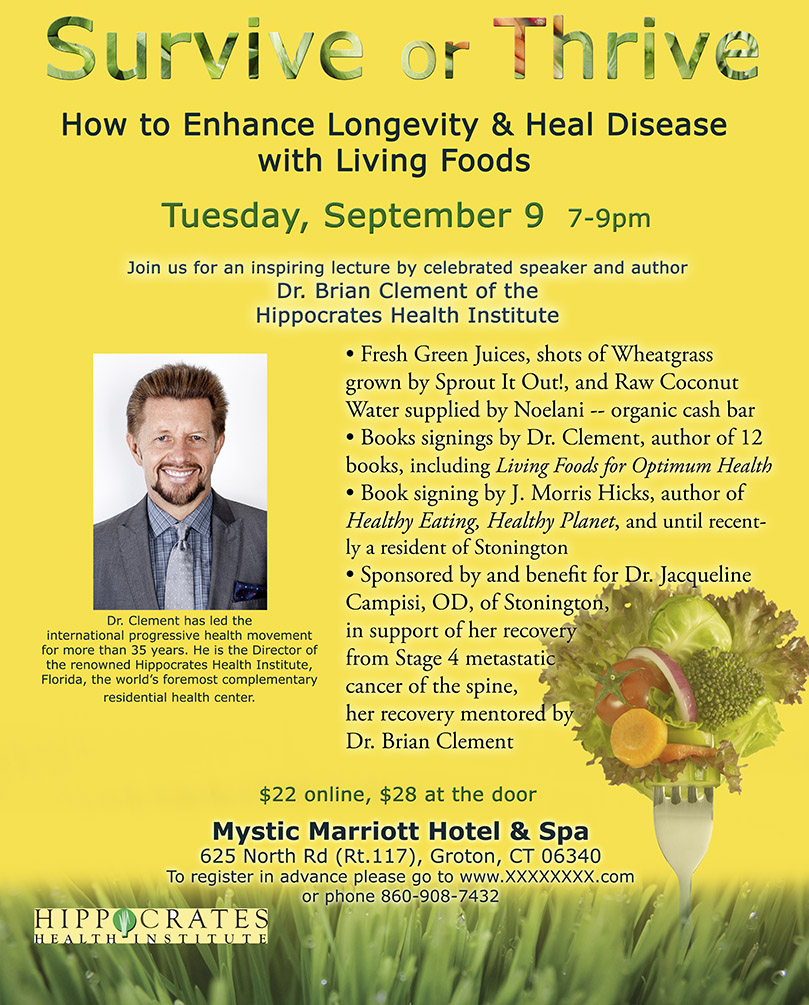 Sponsored by and benefit for Dr. Jacqueline Campisi of Stonington, in support of her recovery from stage 4 metastatic cancer to her spine. Having been diagnosed by Dr. Chris Deveau of East West Chiropractic  and Groton Open MRI on April 15th, Jackie flew to the Hippocrates Health Institute in West Palm Beach FL where she was mentored by Drs. Brian & Anna Maria Clement. Here she learned about the power of living foods and quantum/energetic medicine.  The process helped her loose 50lbs -greatly reducing the impact to her spine  where she had two compression fractures from the tumor at L4-5.  While detoxing from heavy metals, sugars and toxins that contributed to her decreased health, she experienced many unique treatments offered at the center. These enabled to her to decrease inflammation and pain allowing her to return to CT for surgical care.  Her spinal surgery and treatment at Backus Hospital was such a success, she did not require ANY post operative medications after an 8 hour procedure by Dr. Ken Paonessa of Norwich Orthopedic Group, PC. 
Her mentor, Dr. Brian Clement will speak on the topic "Power of Live Food to heal Diseases and Conquer Aging"  In this lecture, he will address the half century of work on disease and longevity conducted at the renowned Hippocrates Institute. These lifestyle protocols enabled Jackie to decrease inflammation & strengthen her immune system.
Dr. Clement will discuss how the living foods lifestyle can provide abundant energy and extraordinary nutrition that protects cells from early death, thereby extending lifespan. Cardiovascular Disease, diabetes, MS, ALS, Parkinson, Fibromyalgia and more can be altered, prevented, and at times conquered with Phyto-chemicals, antioxidants and other nutrients consumed on a diet of organic vegan living food.  Dr. Clement will explain the basic science and extraordinary mechanisms that bring about a heightened and balanced immunity.  Hundreds of thousands worldwide share enthusiasm in their greatly improved health by utilizing unprocessed green foods.  One look at Jackie and you will see that this is true. She is a Stage 4 Cancer survivor full of energy and vibrancy.  Her family is grateful for all that she has learned and passed onto them so that they may thrive not just merely survive.
Fresh Organic Raw Coconut water by Noelani will be provided for purchase along with  Green Juice- World Famous Hippocrates Recipe and Wheatgrass shots grown by Sprout it out!  
Book signings by Dr. Clement will occur after the lecture.  Proceeds will be donated to Jackie's family. 
Author J. Morris Hicks formerly of Stonington: Healthy Eating, Healthy World  will be donating books as door prizes and welcomes the audience to take his 4-Leaf Survey which will soon be adopted by the eCornell plant-based course via the T. Colin Campbell Center for Nutrition Studies.  
Ticket Price: Early Bird- $22 Regular Admission - $28 at the DoorGuest should arrive by 6:30.
Dr. Clement will begin speaking at 7pm
Thank you for supporting this event.  Proceeds will help with income lost while in recovery and in the trial.  Donations may be sent to Greg Culver, PO BOX 475 Mystic CT
Currently seeking sponsors for this event. 

Attendee List
Sort by:

Date

|

First Name

|

Surname
When & Where

Mystic Marriott Hotel & Spa
625 N Rd (Rt 117)
Groton, CT 06340


Tuesday, September 9, 2014 from 7:00 PM to 9:00 PM (EDT)
Add to my calendar
Organiser
Dr. Jackie Campisi and Greg Culver formerly owned Wellness Concierge and Visions Sight and Learning Center in Mystic.  Together they embarked on a plan to promote wellness and nutrition due to Jackie's cancer diagnosis in 2008.  They came to learn about the Hippocrates Institute just in time for Jackie to engage in the Lifestyle Transformation Program: a 3 week course offered on a 50 acre campus is West Palm Beach.  Since Jackie was partially paralyzed from the metastasis this April, she had nothing to lose by taking time to experience the power of this program first hand. Unlike anything she had discovered before, she emerged with a confidence and trust that her body will in fact heal itself if given the right energy, frequency, nutrition and spirit that she now emits to all those around her. The HHI motto is, '"It's not the food in your life, it's the LIFE in your FOOD!".   Greg began a new company called, Sprout it out! as a result of their recent life transformation.  The two are interested in meeting with you personally- Ask them about their mini Hippocrates immersion program. Come meet this dynamic couple and learn how they find each day an adventure and how they view cancer as an opportunity to make wonderful changes in their lives and those around them. 
"We are so grateful to Drs. Brian and Anna Maria for their support and knowledge".  Hippocrates Health Institute is a place to start a journey to oneself- and for us, there was no better destination when faced with challenge and adversity.