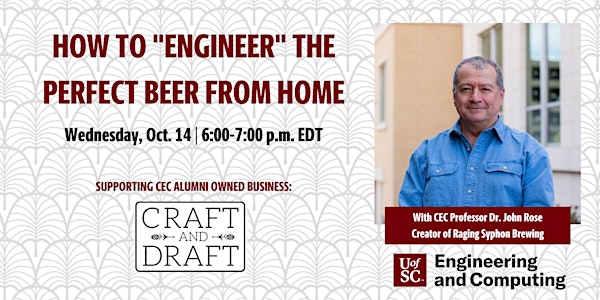 How to "Engineer" the Perfect Beer from Home
Learn how to brew your own beer at home with CEC professor Dr. John Rose!
About this event
We're bringing the CEC Homecoming tailgate to your living room this year with this exciting virtual class!
CEC professor Dr. John Rose, the creator of Raging Syphon Brewing, will show you how to set up and make your own brewery at home. The class will cover the basics of at-home brewing and how to make different kinds of beer. Members of the CEC Young Alumni Board will also be on hand to taste test Dr. Rose's creations live during the class.
During the virtual class, make sure to support Craft and Draft, a CEC alumni owned business, by grabbing a few drinks to go!
Space is limited so make sure to RSVP by October 9, 2020. For more information contact Zach Driver at alumni@cec.sc.edu.