Description
As a part of WEBOS week, the Babson College WIN Lab is bringing together leading experts and entrepreneurial leaders to debunk sales myths and reframe what it means to excel in the field. The event will kick-off with a tedx-style talk from sales and design-thinking guru Ashley Welch, author of the recently published Naked Sales. Following Ashley's talk, Helen Adeoson, Founder and CEO of Care Academy, Micah Clasper-Torch, Director of Brand Partnerships at IVY, and Katie Kelly, Head of Sales, Hubspot, will share their thoughts on what it takes to be a leading woman in sales. Susan Duffy, Executive Director of The Center for Women's Entrepreneurial Leadership will moderate the panel. The discussion is designed to inspire you to take inventory of your own strengths and determine how they can help you be successful in your work within the entrepreneurial or intrapreneurial sales landscape. Light breakfast will be served.
This event is made possible by the generous support of Dianne and Kevin Weinfeld.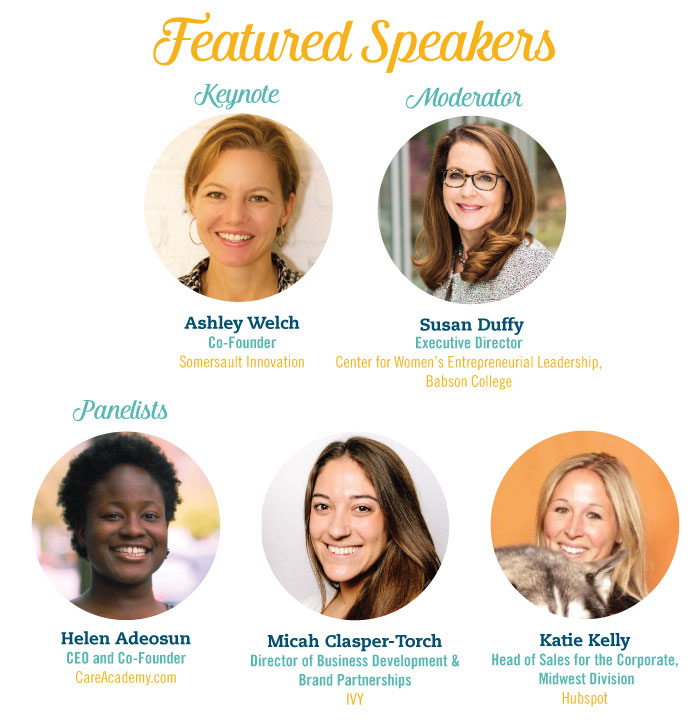 KEYNOTE:
Ashley Welch is the co-founder of Somersault Innovation. Somersault Innovation is a Design Thinking firm which has pioneered a unique approach to sales development. They are teaching sales professionals the tools of design thinking to drive customer centricity and revenue growth. Clients include Salesforce, Facebook, GE, Merck, and others. Somersault Innovation just published Naked Sales, How Design Thinking Reveals Customer Motives and Drives Revenue. Prior to Somersault Innovation, Ashley spent twenty years as a leading sales professional for a leadership development company. She also founded TEDxYouth@Wayland and lives outside of Boston with her family and many pets.
MODERATOR:
Susan Duffy educates, inspires and empowers women to transform their entrepreneurial potential into entrepreneurial impact. CWEL's latest innovation is the Women Innovating Now (WIN) Lab that accelerates women who are ready to think big, be bold, and launch successful companies. Susan earned her Ph.D. from The George Washington University where she founded the Women's Entrepreneurial Leadership initiative, a program recognized as the 2006 National Model Specialty Program in Entrepreneurship Education. Before entering academia Susan was a leader in healthcare foodservice, co-owned a commercial construction company, and owned and operated Ho-Lee-Chow, a Chinese fast-food franchise. Susan is an advisor to several early stage companies and is an angel investor. She serves on the board of the Tory Burch Foundation and the International Council for Small Business where she chairs the Global Women's Entrepreneurship Committee.
PANELISTS:
Helen Adeoson is passionate about caregiving. An educator, she drives outcomes for adult learners, striving to find meaningful ways to engage them. Helen has worked with Teach for America, Boston Public Schools, and Pearson Education. CareAcademy was born from her experience as a caregiver, and she hopes to make CareAcademy a place to continuously learn. Helen holds an EdM. from the Harvard Graduate School of Education.
Micah Clasper-Torch is the Director of Business Development & Brand Partnerships for IVY, an organization that brings together the next generation of entrepreneurs, creatives and innovative professionals through a variety of unique social experiences and digital content. She has collaborated with a variety of world-class brands to provide opportunities to engage with attendees, create unique content, and reach IVY's national audience of millennial influencers. Prior to joining IVY, Micah was the CEO of CityBird, an online wedding registry for experiences, which she co-founded in 2012. Her background spans the fashion and startup world, including jobs at Coach, Bonobos and Birchbox.
Katie Kelly serves as Head of Sales for the Corporate, Midwest Division of HubSpot. She started her career as an Implementation Specialist for Meditech and quickly made the transition into Sales as a Sales Associate for EMC, an IT Storage and Data Recovery company. Katie joined HubSpot in 2013. Since then the company has grown from 10,000 to more than 25,000 customers and from 500 to more than 1,500 employees. Prior to taking on a leadership role at HubSpot, Katie was the #1 Global Inbound Growth Specialist in 2015 and was the first rep in NA Direct to reach the Million Dollar ARR mark. As head of sales, Katie manages a team of Territory Account Executives and Business Development Reps.
She grew up in the Boston area and played field hockey at the University of Massachusetts, Amherst via an athletic scholarship.