How to Double Your Small Business Profits -- Without Advertising

Tuesday, May 31, 2011 from 9:30 AM to 2:00 PM (CDT)
Event Details

"How Smart Business Owners
Can DOUBLE Revenue and Profits
In 12 Months or Less"
This "33% Solution"
helped me more than double sales and
profits for 3 companies in one year ...

Do you own a small business?
Are you working harder and harder -- for the same amount of money?
Want to give yourself a pay raise?
If so, here's news: Now you can double your sales and profits in 12 months -- without advertising -- using a system I've used to do it 3 times myself, in 1998, 2005, and 2010.
Here's the story ...
You see, when your marketing systems are operating correctly, it's a snap for you to:

1) Attract more customers ...
2) Sell more things to them, more often, and ...
3) Increase the amount of money customers spend on each purchase.

Do those 3 simple things and you can't help but grow.

Do them well, and your growth can be explosive ...
Boosting 4 Key Metrics Just 33%
Instantly DOUBLES Profits!


My name is Kevin Donlin.
And I create quantum growth for small businesses by keeping it simple -- aiming for an easily "doable" 33% boost in each of 4 key metrics:

1. Increasing the response rate to your marketing ...
2. Increasing the number of referrals you get ...
3. Increasing the size of your customer orders ...
4. Increasing the number of times each customer orders ...

How much more profit will compounding those 4 bumps of 33% give you?

Take a look ...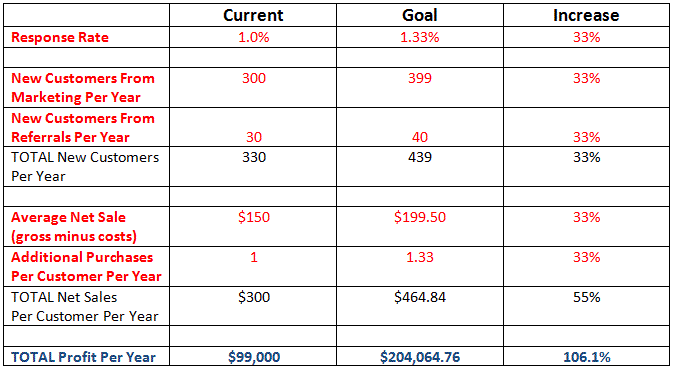 After using this "33% Solution" for just 12 months, you can generate 33% more customers ...

The size of your customer orders will increase 33% ...

Your customers will buy 33% more often from you, and ...

Your total profits will more than DOUBLE -- increasing by about 106% -- through the magic of this compound effect ...

... all without spending one penny more on advertising than you do now.
The best part?
These little improvements are pretty much slam dunks -- things we can do rather easily, in my new workshop, called ...
"How to Double Your Small Business Profits 


  -- Without Advertising" 

If you think you have to work harder, miss more meals with your family, or spend more money on advertising to take home a bigger paycheck from your business -- think again!
There are streams of revenue running underneath your business, and all you have to do is dig.
You'll find out how, when you attend this fast-paced workshop on Tuesday morning, May 31, 2011.
Here's a sample of what you'll discover ...
The sales secret behind the small business, started in a basement in 1972 for less than $1,000, that grew to more than $100 million in revenue -- this same secret could be worth a fortune to you
Finally! A sales shortcut for people who hate to sell. Learn how to ask clients for more money -- and get it -- without using high-pressure tactics
How to create your own $23,750 Product Development Lab -- Free
10 ways to bypass price shoppers and charge what you want. Any one of them could make your business the Apple of your industry
It's among the most-stolen library books in history ... you can't buy it on Amazon for less than $135 ... yet the most valuable advice from this book is given to you at the workshop!
The 2 words that turn one-time transactions into a lifetime of predictable revenue. They are ignored by 98% or more of businesses today. But you can start profiting within 5 minutes
The real meaning of the classic FedEx phrase, "Absolutely, positively overnight" -- and how you can create your own blockbuster slogan (revealed by a man who used to work for FedEx)

The 2 questions one grieving widow asked when she took over her late husband's company. With zero business experience, she increased sales 149% and retired financially independent for life. (Note: these same 2 questions helped me double profits for my own business, in less than 90 days. Perhaps the most ingeniously simple secret of the whole session -- revealed and customized for YOU and every attendee.)
The powerful one-page "reactivation" letter you can mail out to a list of addresses you already have, that can bring a cash surge into your business -- within 24 hours.
How to double your sales and profits with "Follow-up Marketing" -- I did it in about 10 months. You could do it in half the time. (Best part: your competitors will never know what hit them. This is the ultimate in "stealth technology!")
Did you know that you already have a money-back guarantee? It's true. You'll learn why and how to turn potential refunds into a "category killer" that leaves your competitors in the dust!
The real reason people stampeded to buy Sports Illustrated for 15+ years (and no, it wasn't the swimsuit issue). These same secrets can help double your profits
Why you should stop offering "free consultations" and start doing something else -- starting tomorrow. Get this wrong, and your business gets lumped in with other commodities, like sugar and flour
The 3 kinds of customers you have, not matter what business you're in. (One customer is causing 80% of your headaches -- right now. How to find and "fire" this customer, so you can take back control of your life.)
How to clone your best clients. Imagine waking up one morning to find that only the most-profitable and easiest-to-sell people are calling you, asking to do business with them. It can happen! If you follow a few simple instructions
How to get at least 10% more money from the buyers you already have, in less than 24 hours. (Here's another forehead-slapping, V-8 moment that will pay you back many times your investment in this seminar, right on the spot.)
What does QVC know about pricing that you don't? Hint: it helped turn a rinky-dink, home shopping channel into a $4.9-billion empire. What would you do with just .01% of that $4.9 billion? Learn the simple secret here
PLUS, how to boost your sales by 50% or more -- simply by changing the "scripts"

You'll leave this workshop with a step-by-step blueprint that lets you DOUBLE your profits. What would that kind of a pay raise feel like?
In all, you get 37 proven ways to double your profits.
Any one of these sure-fire tactics could increase your profits 25%, 50%, 100% or more -- without having to work twice as hard ... or double your sales ... or spend one penny more on advertising.

Here's What You Get -- $2,585 in Value

In addition to the personalized training in this small classroom setting (conservatively, a $250 value) you get these business-building tools:
The "33% Solution Blueprint" that lets you DOUBLE your sales and profits in 12 months -- or less ($500 value)

"Conveyor-Belt" Referral System that delivers new clients like clockwork ($95 value)
"Thank You" Marketing Strategy that pays you back up to $399 for every $1 you put in -- you'll see the proof ($95 value)
Course Manual, full of shortcuts that you can refer to any time, to keep you on the fast track to higher profits ($95 value)
PLUS, when you enroll today, you get private copies of 2 Special Reports, worth an extra $50:
Guaranteed Marketing for Service Business Owners -- 34 pages of instantly useful ideas, including: How to avoid the curse of "me-too" marketing with a unique selling proposition ($25 value) and
Follow-up Marketing -- 47 pages of sure-fire tips, including: How to create a predictable, never-ending stream of prospects, clients, and referrals using email and 2 other tools ($25 value)

That's $1,085 in total value. And that's in addition to my standard $1,500 fee for 4 hours of corporate training. So this learning session is a bare-bones $2,585 value.

But you won't have to pay even 10% of that ...

Because this is a small workshop, delivered in one session to a group of students, your investment today is a very reasonable, risk-free $150. But only if you hurry ...

That's because Discount Tickets with the Free Special Reports are limited to only 10 seats. Once they're gone, they're gone -- and you have to pay the full, Standard Ticket price of $200 (still a bargain).

The Agenda
9:30 a.m. -- 9:55 a.m. -- Coffee and networking
10:00 a.m. -- 11:30 a.m. -- Learning Session #1 and tool-building exercises
11:30 a.m. -- 12:00 p.m. -- Lunch Break: FREE catered lunch provided for you. Who said there's no such thing as a free lunch? Not to mention the networking and brainstorming that goes on ...
12:15 p.m. -- 1:45 p.m. -- Learning Session #2 and tool-building exercises
1:45 p.m. -- 2:00 p.m. -- Wrap-up and final summary

Your Instructor
Kevin M. Donlin:
has been marketing online since 1994, when he sold one of the first ebooks ever;
was Webmaster for FedEx.com from 1995 to 1998, when he worked with the pioneers of Internet marketing;
has been an entrepreneur since 1998;
was among the first to use pay-per-click (PPC) advertising in 1999;
is author of 4 books, including 21 Quick Ways to Get More Clients, and
has been interviewed on marketing topics by KARE-11 TV, KSTP TV, WCCO Radio, The New York Times, The Wall Street Journal, U.S. News & World Report, The New York Post, Entrepreneur Magazine, USA Today, Forbes, Woman's Day, CBS MarketWatch, CNN Money, The Chicago Tribune, and others.
Kevin writes sales letters, web pages, and print ads for small business clients in the Twin Cities and across America. A former high school teacher and textbook editor, his seminars are known for delivering clear, practical ideas you can use right away.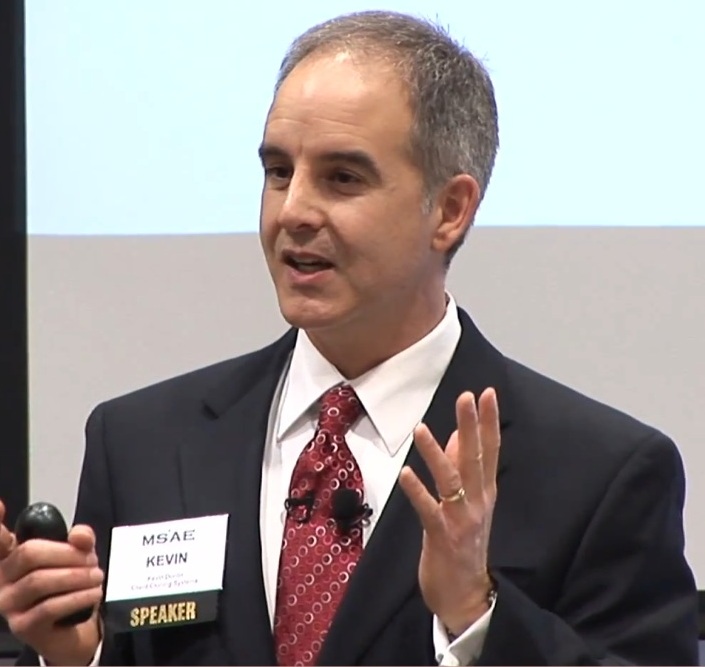 Here's What Others Say ...

"The marketing seminar Kevin Donlin hosted was very informative. Judging by other marketing classes I have attended (and had to pay the extra expenses of flying out to), this class would be worth $800 - $1,000.  I may even be underpricing that. I encourage anyone who does marketing in their business to attend this seminar. It's fun, entertaining, and most of all straight to the point. You will walk away with something you can use immediately." -- Kent Boll, President; Boy's Electric, Eden Prairie MN
"This was a topnotch presentation with practical, actionable steps for me, the small business owner. It was well presented, concise, fast moving and the materials you sent us home with were comprehensive. I loved this presentation and it's given me plenty of ideas for building my business."
-- Maureen Fischer, MaureenInk Communications, Eden Prairie, MN
"Fantastic presentation. I can immediately utilize these ideas to help grow my clients' business and my business!" -- Eric Shoars; Sales Representative, Rochester, MN
"Excellent, energizing and refreshing. I love that these are all ideas we can begin using immediately. I plan to implement many of these ideas into our bank!" -- Amanda Spear, Marketing Officer/Lender; The First National Bank of Henning, Henning, MN

"I just wanted to say what a terrific program this morning! Your solid information, creative ideas, and engaging presentation style held the audience thoroughly captivated. An all-around great presentation!!" -- Camille Benoit; American Marketing Association, Minneapolis, MN

"Thank you so much for speaking at NSA-MN last night. Your five points and every single thing you said were extremely valuable and added the perfect ingredients! Everyone thought you were great. All positives!" -- Susan Zimmerman; Event Planner, National Speakers Association - MN Chapter


Your Risk-Free Guarantee

You can NOT make a mistake here.
If you're not 100% delighted with what you learn at this seminar, let me know by email when you get home, and your ticket price will be fully refunded. You owe nothing. No questions asked. No hard feelings, either.
And you keep EVERYTHING -- your "33% Solution Blueprint," Course Manual, 2 Special Reports, new Referral System, "Thank You" Marketing strategy, etc. -- as my thank-you gift for your trouble.

Does that sound fair?                                  



Plus: 10% of your tuition supports The American Cancer Society and their battle against cancer in our families and community. You'll help a great cause while you help your business!
After doubling sales and profits for 3 of my own businesses -- in 1998, 2005, and 2010 -- I can say with some assurance that this system does, in fact, work.
You could be just one new idea away from boosting your take-home pay by 50%, 100%, or more ...
Why not give yourself a raise? It could change your life, for about what you'd spend on dinner at a French restaurant.
Don't delay -- discount seating is limited to only 10 attendees. Please join us today!
To your success,
Kevin Donlin

   If you're busy on Tuesday, live outside Minneapolis/St. Paul, or just got here too late, you can still download some of my best business-building ideas here.

When & Where

DeVry University - Edina Campus
7700 France Avenue South, Suite 575
Classroom #1
Edina, MN 55435


Tuesday, May 31, 2011 from 9:30 AM to 2:00 PM (CDT)
Add to my calendar
Organizer
Get more clients like your best clients. With sales letters, web pages, and print ads that sell. Or you pay nothing.