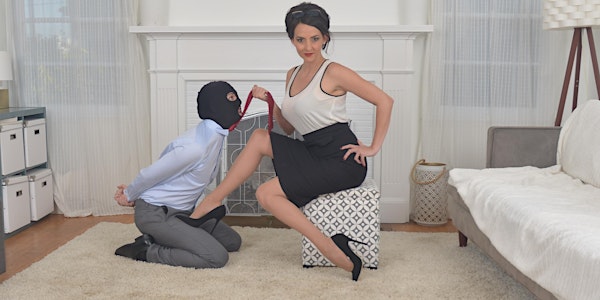 How to Dominate Men with SLAVE TRAINING!
When and where
Location
Dungeon West S La Brea Ave & W Jefferson Blvd EXACT ADDRESS w/TICKET Los Angeles, CA 90016
Description
Are you 50 Shades of Grey curious? Then do not come to this class. If, however, you are a woman who is curious about how you can harness your "Pussy Power" to have more control in your career, over men and in your life through the erotic art of Female Domination, then this class is for you.
Whether you are looking to spice up your sex life, be more in-control professionally, or even thinking about becoming a Dominatrix, you will get the psychology and tools you need to get started.
This class in the Female Domination series is Slave & Obedience training.
In this class you will learn:
1. How to exert Your ownership of a man (or woman, ladies!)
2. The Four Phases of Your dungeon; How to create erotic suspense using your voice, touch and environment.
3. Slave positioning: Gain ultimate control of Your subject with these 10 positions.

kneel down

kneel up

present wrists

all fours

present ass

present ass for caning

present ass for reminder

stand at attention

present to be collared

thumb and finger

and, as a special bonus, we will cover positions for proper foot service.
4. Corporal Punishment as a method of teaching and behavior modification.
And, as a bonus, men will learn: Where to meet Dommes, how to tell if They are safe to play with, How to greet a Mistress in public and private settings, proper eye positioning, Greeting the foot, proper dialogue and titles, The 10 positions of a slave and why they are good for you.
Instructor: Tara Indiana
This class is open to women, submissive men and couples