"How to Die in Oregon" Community Screening of the acclaimed documentary fea...
Description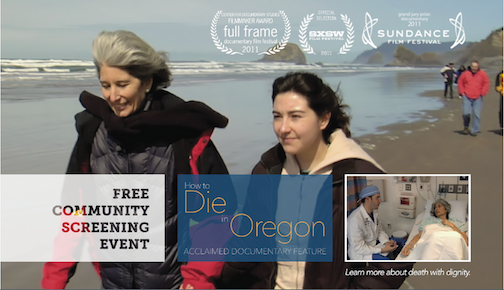 In this thought provoking feature, filmmaker Peter Richardson gently enters the lives of the terminally ill as they consider whether – and when – to end their lives by lethal overdose. Richardson examines both sides of this complex, emotionally charged issue. What emerges is a life-affirming, staggeringly powerful portrait of what it means to die with dignity.
How to Die in Oregon won the Grand Jury Prize for Documentary at the Sundance Film Festival in 2011, along with numerous other accolades. The film was acquired for television and aired on HBO.
Guest Speakers:
ANGELA ANGEL, a life-long civic activist and organizer, now Delegate for the 25th District and co-sponsor of Death with Dignity law in Maryland.
ALEXA FRASER, daughter of Alex Fraser, a Maryland innovator and investor who took his life at age 90 while suffering from advanced Parkinson's disease. Fraser says, "What matters is that each of us of sound mind and failing body should be able to choose the way that we want to die. The law should allow us that final dignity, but here in Maryland, it doesn't."
A Death with Dignity law will be introduced in Maryland this legislative session.
Compassion & Choices is conducting screenings of How to Die in Oregon in partnership with venues and community organizations around the country to engage communities in conversation and reflection on important issues related to end-of-life care and choice. www.CompassionAndChoices.org
Read Washington Post article, "'Death With Dignity' laws are proposed bringing national debate to D.C. and Md." by Mike DeBonis
Information about the event, contact organizer or call 202-780-7054.
Organizer of "How to Die in Oregon" Community Screening of the acclaimed documentary feature