Description
How to Develop an Effective Retirement Plan Committee
A well-organized and effective retirement plan committee is the cornerstone of successful fiduciary decision-making and organizational risk management.
WEDNESDAY, NOVEMBER 29
8:00am-9:30am
Breakfast will be served.
Tysons Dulles Plaza Conference Center
1420 Spring Hill Road
1st Floor (on your left upon entering building)
McLean, VA 22102
About the WFG Retirement Fiduciary Training Series:
We developed our Fiduciary Training Series because we believe that it is crucial that Plan Sponsors who are charged with the responsibility of company retirement plan oversight have the opportunity to increase their knowledge base in areas such as retirement plan design, operation, comprehension of fiduciary obligations, and improving outcomes.
Our Fiduciary Training Series workshops are designed for small groups, which allows for the best environment to promote discussion among the participants and presenters.
Speaker:
Joseph F. DeNoyior, CPFA, CRPS®, AIF®, C(k)P | Managing Partner
Washington Financial Group

Speaker Bio:
Joe is the Managing Partner at Washington Financial Group (WFG) and the Partner in charge of WFG's retirement plan group which services over 150 qualified plans. Since 1990, he has maintained a commitment to building an organization centered on client needs that seeks to provide unsurpassed service and independent advice for professionals, entrepreneurs, businesses and their employees.
Joe is proud to lead the team at Washington Financial Group that was recently named the 2017 PLANSPONSOR Retirement Plan Adviser of the Year in the Small Team category.¹ The 2017 PLANSPONSOR Retirement Plan Adviser of the Year winners have demonstrated leadership and a commitment to excellence for their retirement plan sponsor clients and participants.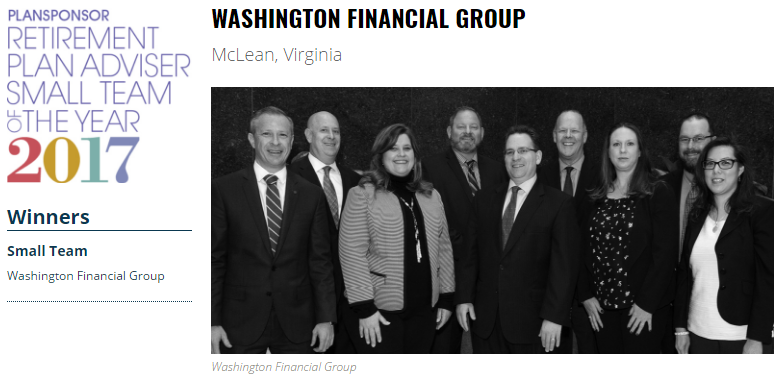 Joe is the Past President of the National Association of Plan Advisors (NAPA) as well as a Founding Lecturer at The Retirement University for Advisors at UCLA and a member of the LPL Financial Retirement Plan Consulting Group.² He was recently named to the 2016 Financial Times Top 401 Retirement Plan Advisors list as well as one of PLANADVISER's 2017 Top 100 Retirement Plan Advisers.³
Joe is a strong advocate of financial education for himself and his clients. He is an Accredited Investment Fiduciary® (AIF®), Chartered Retirement Plan Specialist® (CRPS®), Certified Plan Fiduciary Advisor (CPFA), and Certified 401(k) Professional – C(k)P™. He is also an instructor for The Retirement Advisor University (TRAU) in Collaboration with UCLA Anderson School of Management Executive Education, where he educates qualified retirement plan advisors enrolled in the two-year C(k)P™ certification program. He is a graduate of The George Washington University in Washington, DC and holds a Bachelor of Science degree in Business Administration and Finance.
Joe, his wife Stacy and son Anthony live in Vienna, Virginia. He is active in the hockey community as both a coach and a player. Joe also enjoys golf and travel.
---
¹Nominated by industry professionals and selected based on quantitative evaluation of service levels and feedback from plan sponsor clients.
²Awarded to financial advisors managing at least $25 million in defined contribution (DC) plan assets where DC plans represent at least 20% of total AUM. Graded on several criteria, including growth in DC plans and assets, plan participation rates, experience and industry certifications, and compliance record.
³Nominated by industry professionals and selected based on quantitative evaluation of service levels and feedback from plan sponsor clients. Advisors who have attained the PLANSPONSOR Retirement Professional Designation receive an automatic nomination.