How to Design Effective Training Programs - SoCal

Friday, October 19, 2012 at 9:00 AM

-

Saturday, October 20, 2012 at 5:00 PM (PDT)
Event Details
HOW TO DESIGN EFFECTIVE TRAINING PROGRAMS
TWO DAY WORKSHOP
Hotel Huntington Beach
7667 Center Avenue, Huntington Beach, CA 92647
9 AM - 5 PM each day; registration opens at 8:30 AM each morning
If your current or future duties require you to design workshops and seminars, you need these two days of practical learning.  Whether you are the department head, senior trainer, course designer or instructor, this material will make your programs more alive and productive.
Advance Registration Now Open!
Register early and save!  $1199/per person for the two day workshop if you register more than one month prior to the workshop; $1299/per person general registration.  Group discounts available for groups of 3 or more participants from the same organization.
The Hotel Huntington Beach has arranged special room rates for The Training Clinic attendees.  To get these savings, please call 714 908-5184 and tell reservations that you are calling to take advantage of the special Training Clinic room rate.
What You'll Learn
Several types of needs analysis are developed to help uncover real training needs in the organization.  Needs are translated into learning objectives.  How to select training methods, craft activities and evaluate training are strong components of this workshop that follows a traditional Instructional Systems Design (ISD) model.
Pre-workshop Assignment
Participants are encouraged to select a course they are designing or redesigning and bring learning objectives, content outline and any materials that have been developed.  This course will be used to practice the tools introduced in the course.
Workshop Content
Review workshop content and objectives
Inventory your design skills
Set personal objectives for this session
Unit 1: The Design Process
Sort training and non-training issues: Is training the answer?
Partner with management
Compare approaches to training design
Apply adult learning principles and steps to guide design
Review the three phases of design
Unit 2: Plan for Training
Define what training can accomplish
Assess training needs
Evaluate guideles for developing needs assessment instruments: do's and don'ts
Analyze special assessment issues
Sort needs vs. wants using managmeent development analysis
Decide what you need to know about learners to be effective
Break down a task into teachable parts
Write realistic instructional objectives
Build a skills inventory
Determine if prerequisites are necessary
Unit 3: Organize and Plan Materials Development
Examine the anatomy of a module
Select appropriate methods based on the learning objective
Identify effective technical training methods for recall and application
Sequence methods appropriately
Provide sufficient practice to change behavior
Pace methods to avoid boredom
Unit 4: Develop Materials to Meet Instructional Objectives
Create 'discovery learning' in your activities
Adopt, modify or create new learning experiences
Examine tips for writing demonstrations with skill practice, case studies, information searches, interviews, games, role plays, self-assessments
Use a comprehensive guide to develop activities and exercises
Unit 5: Learner Handout Materials and Lesson Plans
Identify types of handout materials
Determine how to develop programmed notes
Use a fifteen-point checklist to develop complete handouts
Craft effective job aids and checklists
Create action plans to keep everyone on track
Determine when to develop three types of lesson plans
Write lesson plans for others to use easily
Use a fifteen-point lesson plan checklist
Ensure consistency across sessions
Unit 6: Evaluate the Results of Training
Assess learner reaction and analyze trends
Examine methods to test for learning
Determine if new skills are used back on the job
Use benefits to show bottom-line results
Methodology Resource Guide
Each participant receives a Methodology Resource Guide that is a template for designing training programs and contains all the tools, templates and checklists from the two day workshop.
Workshop Objectives
By the end of the workshop, the participant will be able to:
Apply a systematic method to easily design a training program
Design a training program to meet the learners' needs
Describe how Performance Analysis can mean the difference between success and failure
Improve productivity by knowing when and where training can contribute
Use adult learning techniques to improve retention and reduce participant resistance
Build learner retention
Break down a task easily to identify prerequisites 
Easily write realistic training objectives that meet three conditions
Select the best learning experience to train learners
Identify how much practice is needed to build a new skill
Pace methods to maintain high energy and active learning by the participants
Help learners discover and develop skills through appropriate activities and exercises
Craft effective training materials, exercises and tests
Use checklists for lesson plan, handout and test development
Easily write lesson plans others can use
Use four effective evaluation methods and state exactly how each works
Use a unique inventory to select three types of lesson plans correctly
Describe four effective evaulation methods and exactly how each works
Identify how to measure bottom-line results of learning
What Past Participants Say:
"One of the only seminars I have attended that has surpassed my expectations."
"Presentation of specific techniques that are practical and useful."
"Different activites kept interest, excellent variety."
"I thought it was great.  Very helpful and informative - motivating."
"It gave me useful information for training my people."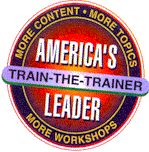 When & Where

Hotel Huntington Beach
7667 Center Avenue
Huntington Beach, CA 92647


Friday, October 19, 2012 at 9:00 AM

-

Saturday, October 20, 2012 at 5:00 PM (PDT)
Add to my calendar
Organizer
The Training Clinic
Welcome to The Training Clinic and our special brand of train-the-trainer workshops.  The Training Clinic is America's train-the-trainer leader.
We specialize in state-of-the art design, delivery, management and evaluation of training through the development and delivery of workshops, certificate programs, on-line courses, publications, training products, job aids and consulting. Since 1977, we have trained over 150,000 people on 5 continents with the assistance of our over 20 Master Instructors located both in the U.S. and abroad, each averaging over 15 years of experience and previously holding key organizational positions.
Back by Popular Demand...Public Workshops!
Check our website at www.thetrainingclinic.com or connect with us on Facebook or LinkedIn for the latest information about our well known series of public workshops. You can take a single workshop or combine them (with a project or two) for a much lauded Training Clinic Certification.
Just-in-Time Training: Each one or two day workshop covers just those skills you need at this moment in your professional development.  You won't sit through or pay for 3, 4, 5 days or more of content that you don't need now, or maybe ever.
Practical Content: You'll recognize and identify with the issues raised because they are the same concerns you are coping with each working day.  Your workshop instructor is an active training/HRD consultant who will share with you real world experiences.  We focus on practical application, not theory. You will work on your organization's real issues and develop action plans and materials to use on the job the very next day.
Constantly Updated Content: Our workshops are revised regularly with input from past participants, instructors and research into state-of-the-art materials to make sure the content is current, reliable and fresh.
Involving and Challenging Materials:  Each workshop is designed using the latest learning techniques and then analyzed in 15-minute segments (using a Training Clinic copyrighted, exclusive technique) to select the best method to communicate the content.  We hold your interest through effective use of lecturettes, discussions, case studies, inventories, audiovisuals, role plays, self assessments, checklists, planning tools and more.  Lectures are kept to a minimum.
Master Practitioner Instructors: Each of our instructors is an active training/HRD consultant with 15-30 years of directly related experience in the subjects they are teaching.  Daily they advise and solve problems for their clients in business and government.  They are not captive employees who simply repeat the same content day after day.  They are active practitioners working in the real world and mastering today's training problems.  You'll learn from their real world examples, advice and answers.  Importantly, our instructors model that they teach and train through demonstration of each technique rather than by lecturing about it.
Experience:  The Training Clinic is celebrating its 37th anniversary as America's train-the-trainer leader.  Share the experiences of hundreds of thousands of people who have improved their skills by attending a Training Clinic workshop.
Value Pricing: Why pay more for similar training?  Stretch your training dollars.  Our prices end where others begin, and if you are not happy with the results you don't pay!
Training Clinic Bonuses:
• Limited class size (average is under 16) so your individual objectives are solicited and addressed.
• A comprehensive workshop manual that becomes a useful reference tool following the workshop.  It contains valuable checklists, instruments, class notes, job aids, case studies and exercises.
• Complimentary breakfast pastry, coffee and soda breaks.
• A personalized certificate of completion, signed by your instructor.
• Continuing Education Credits: 1.3 CEUs for a two day program; .65 CEUs for a one day program.
• Money Back Guarantee: The on-the-job benefits of your Training Clinic workshop will last you a lifetime.  We guarantee the quality of our workshops.  If, for any reason, you are not satisfied with a workshop for which you have paid, simply return your workshop materials with a written explanation.  The Training Clinic will give you credit toward another workshop of comparable price or will refund your registration fee.
Cancellation Policy
Cancellations are accepted at no charge up to 15 working days before the workshop.  Later cancellations or no shows are responsible to pay the entire workshop fee. Once paid, a 'Certificate of Transfer' is issued valid for attendance at a future workshop of comparable value during the next twelve months. Subsitutions and transfers may be made at any time at no charge.
In the event of a cancellation of a workshop for any reason, The Training Clinic's liability is limited to the return of registration fees.  Please use caution when booking non-refundable airfare or hotel rooms. We typically confirm workshops 1-2 weeks in advance.  Feel free to check the status of any given program with us prior to making travel reservations.
Contact us:
The Training Clinic, 1510 Catalina Avenue, Seal Beach, CA 90740
800 937-4698
www.thetrainingclinic.com
events@thetrainingclinic.com
How to Design Effective Training Programs - SoCal