About this Event
The Sustainable Start [Business Model] Canvas Methodology helps you Map, Check, and Innovate your business model from 4 systemic perspectives to make sure you really understand your customer's needs and how they change, create inherent value for society and the environment you depend on, ánd navigate our fast-changing 21st-century context more strategically and successfully.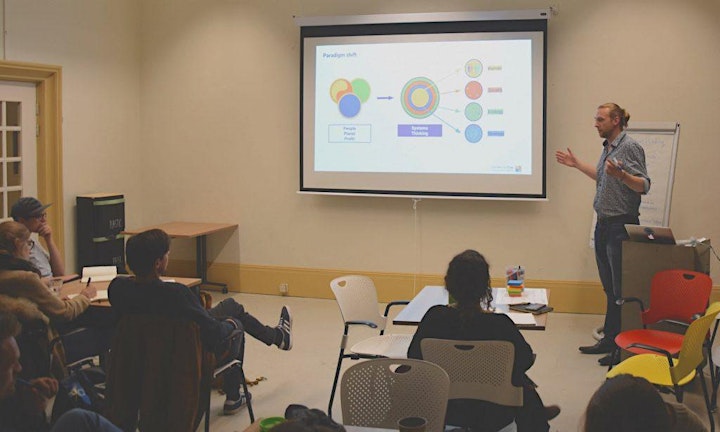 Why join this workshop?
Sustainability is the imperative mindset, practice and strategy for success in the 21st century. In the light of global environmental issues, social instability, and economic uncertainty; companies in every sector are facing severe insecurities about the continuity of their business if they fail to adapt to the changing circumstance. Changing consumer preferences, more stringent laws and regulations, and decreasing resource availability are just a few of the things helping businesses around the world wake up to the necessity to improve their sustainability performance. And once the desire to improve is there, the big question that emerges is: how?
Integrating sustainability in your business strategy is essential to minimise risks, decrease (hidden) costs, and increase growth opportunities through innovation. To do so, effective design and development tools are crucial to clearly identify, analyse, and improve your impact, and secure a sustainable business model design. Unfortunately, current business development tools simply don't cut deep and wide enough to realize the necessary change.
The Sustainable Start Business Model Canvas Methodology helps you approach your business from a systems thinking perspective and remodel your business in line with scientifically proven principles for sustainable 21st-century business success.
>>> Watch the video below to learn how the Sustainable Start Business Model Canvas (SSC) improves the traditional BMC.
What will you do and learn?
Map, Check, and Innovate your Business Model for Systemic Sustainability.
Using participatory methods and our trigger questions and templates we help you embed simple systems thinking concepts, principles, and goals for sustainability throughout every building block of your business model. Our 3-step process helps you Map, Check, and Innovate from 4 systems thinking perspectives, each with their own benefits:
1. Universal Human Needs
How might we understand the real needs of our customers and satisfy them throughout changing contexts?
Better understand the real needs of your target audience and develop product-service solutions designed to satisfy these needs throughout changing time, culture, and context.
2. Social Sustainability and Resilience
How might we grow social and organisational resilience and support trustworthy relationships with all our stakeholders?
Grow social resilience and organisational agility and support healthy and trustworthy relationships with all stakeholders throughout your entire value chain.
3. Ecological Sustainability and Circularity
How might we create eco-regenerative and circular solutions and close the loop throughout our product-service lifecycle?
Create environmentally friendly, eco- regenerative, and circular solutions to eliminate harmful contributions and close the loop of your product-service lifecycle.
4. Strategic Direction & Prioritization
How might we thrive in business by navigating complex 21st-century challenges more strategically and effectively?
Navigate your fast-changing context more strategically, effectively and efficiently while increasing revenue and eliminating costs and risks.
>>> Watch the video below to learn about the 4 Systems Thinking Perspectives we apply to your business model with the Sustainable Start Business Model Canvas.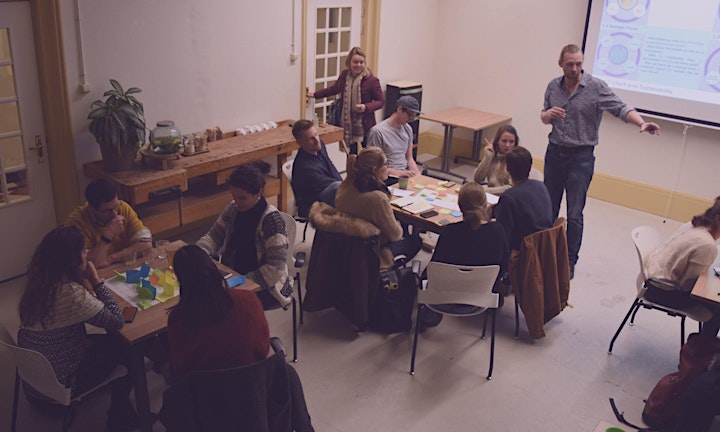 Your organization at the center of attention?
Apply for a spotlight seat! Indicate your interest during the signup process and we'll contact you asap. First come first serve if you meet all criteria.
In this workshop we will apply the Sustainable Start Canvas Methodology to your own business projects. We have space for a maximum of 4 business projects to benefit from being the center of attention, analysis, and creativity!
If you'd like to take advantage of this opportunity to gain some valuable new perspectives, insights, and ideas on your business we'd like to have a call with you beforehand to learn more about your business and help us tailor the workshop to your industry, challenges, and opportunities.
How much is your investment?
We want to make it possible for everyone that wants to be there, to be there. That's why we have 3 different pricing options.
Budget: € 99,-*
Students, (social) entrepreneurs, freelancers, changemakers, everyone paying out of their own pocket.
Normal: € 199,-
Startup Founders and Teams, SME business owners, Consultants, everyone who can afford or deduct as costs.
Corporate: 299,-
In-house Innovators, Business Leaders, (CSR) managers, and all other who have someone else to pick up the bill.
Coffee/Tea & Veggie Lunch are included!
prices are excl. 21% Dutch VAT (BTW)
* those choosing the budget option might be asked to help out with some practical support during the workshop.
Who should join this workshop?
-(Social) Entrepreneurs
- Startup(s) (Founders)
- SME decision-makers
- Consultants & Trainers
- Innovators
- Changemakers
Simply put: everyone eager to make business more sustainable.
Who: understand how serious our current situation is, and are positive about the potential to make a difference,
And: want to integrate sustainability at the core of (their) business model, to create systemic triple value.
For more Info about the Sustainable Start Canvas Methodology and to download the Sustainable Start Canvas, please visit our website :
www.SustainableStart.net