Description
There is a formula for Success, get top tips from our awesome panel of guest speakers who've been where you are!
Learn how:
- They managed to do what they love & get paid for it!
- They are able to take time out of their business & it runs without them
- They get paid to fly & speak around the world
- They start every day with a morning success routine
- They built what they have today from nothing!
If they can do it then you can too - at this event you will get the inspiration, motivation and formula for success!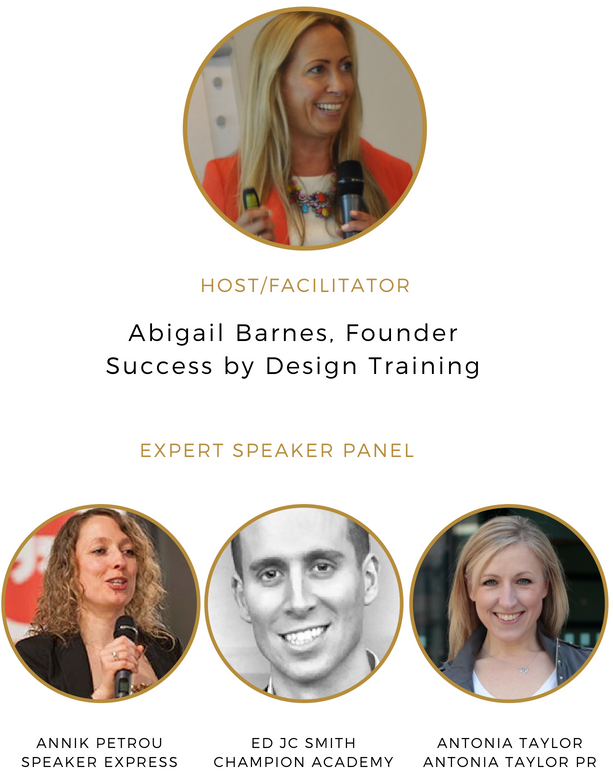 Panel Discussion - Guest Expert Speaker Panel:
Annik Petrou - Founder of Speaker Express
Annik has over 30 years experience in being scared of speaking, declining speaking opportunities due to the fear of looking silly in front of peers and other nerve related issues.
This all reached its peak in 2011 at a speaker training course – enough of wasting time worrying about what others might think – Speaker Express was born.
Since then, they have helped thousands of entrepreneurs to successfully pitch for investment and funding, gain the confidence to push their business from home office to the stage, speak on TEDx stages or landing big corporate contracts.
Annik's Speaking Tip: Get speaking as soon as possible, ready or not. You are perfect now, even though you will continue to improve FOREVER.
Ed JC Smith - Founder of Champion Academy
Ed is the author of the No 1 Amazon bestseller Money Mindfulness Daily, how your thoughts impact your feelings and thus your actions; a practical step by step guide of how to build successful habits on a daily basis.
An internationally renowned expert in the area of psychology, performance and business, Ed has used cognitive psychology, emotional intelligence and leadership training in business for over 16 years. He has taught this in some of the most prestigious facilities in London, the United States and Australia, including the Joshi Clinic in Wimpole Street where clients like Gwyneth Paltrow, Jude Law, Michael Jackson, Princess Diana are and were regulars.
Ed talks all over the world on the practical application of business psychology, how it can be applied to break through your limitations, and how he personally built a multi-million-pound business portfolio to achieve financial freedom so that you can do the same too.
Ed started the Champion Academy; a personal and professional development company that runs training programs globally, to help individuals and organisations take their lives and businesses to the next level. Through the Academy, Ed believes in giving back beyond yourself. The Academy provides support to disadvantaged children with education and nutritional support in countries that need it the most.
Antonia Taylor - Founder Antonia Taylor PR
Antonia helps fast-growth SMEs grow through impactful communications. Cutting her teeth in a leading London PR agency, she worked her way up alongside some of the best talent in the industry. Two children, a freelancing stint and a senior move to a regional consultancy later, Antonia wanted to find a way to balance professional ambitions with family life – offering London agency quality with a Thames Valley postcode. It was about the choice and freedom to work with brands she believes in, and can make a real difference to.
Today, she works with some of the most inspirational businesses around – in London and the Thames Valley – helping drive leadership, affinity and engagement through storytelling.
During our interactive Q&A Panel Session, they will share HOW they've been able to create their successful business and lives by design.
>>You'll also learn how to apply our 3-Step Success by Design Formula™ and signature system, and getting results, the minute you leave the event!
Goodies:
All attendees will get Exclusive Goodies and special offers from our panel, including a copy of Abigail's book Time Management for Entrepreneurs (RRP £4.99) and access the Book Bonus Training Group.
Questions:
Drop us an email and let's chat enquiries@successbydesigntraining.com
We hang out on Instagram, say hi! @abarnesauthor
By registering for this event, you accept our terms and conditions (including limitations and exclusions of liability & privacy) available on our website.
---
SOME TESTIMONIALS:
"I had the true pleasure to take part of Abigail's Workshop on Lead Don't Follow. The content around Self-Leadership, Lifestyle and Legacy was really thought-provoking and inspiring. It made me reflect and at the same time gave me pragmatic tools in order to get into action after the session. What made the real difference was Abigail´s way of delivering the workshop. It shows she really enjoys what she does, this is contagious. Abigail keeps the audience in her hands throughout the entire workshop. She does this via her authentic style, daring to display vulnerability and shares very openly what made her to what she is today. The audience in the workshop must not have been easy to impress, consisting of very experienced international trainers and coaches.
I have also experienced Abigail is a great coach, showing true interest in others development with clear and precise questions.

I am happy to give Abigail my best recommendations."
Thomas Kronberg, Sweden
"Abigail is a compassionate speaker and motivator. She combines a personal story with a concrete approach. Mastering your time is the beginning and end of making a change in your life."
Joep Everts, Holland
"Today I attended a Sales Surgery ran by Abigail Barnes which was extremely useful for new concepts and as a refresher session. I personally learned something new about the anatomy of the brain (Reptilian/Lymbic & Neocortex) and how it can be used effectively in a sales environment.

I recommend people attend the next event as the concepts I learned are invaluable and you can not only learn from Abigail but also from other like-minded professionals and it is an opportunity to network!

Repeating the same phrases and processes only reinforces what you already know, whereas seminars like these broaden your thinking and skill set and help you grow as a professional and potentially in your personal life!"
James Prebble, UK
I'm very pleased I attended Abigail's Time Management Skills Training Workshop and at last, I can look at my business and create a growth plan making the most of my time and resources. Small business owners, I highly recommend this workshop especially if you are struggling with your Time Management and Business Growth Plans!
Daryl Kay, UK
Thoroughly enjoyed Abigail's Time Management Skills Workshop. Good common sense information to help push small businesses forward. Definitely worth attending if you're looking to get more done!
Ben Pritchard, UK
Having spent a day with Abigail I couldn't help but find myself driven, energised and more focused than I had been in years! Abigail's passion and energy is infectious, I found myself planning and dreaming about the possibilities for my life and business, not something I have done for years. After spending a day with Abigail, for the first time in a long time, I had some clear goals set, and now I can see how I can grow my business. I have a plan for the next 12 months that I can work on delivering! I can't thank Abigail enough for all her help!
Steve Allen, UK
It's impossible to overestimate the impact that proper planning and goal setting can have on life. In the weeks since the program, my professional and business life has taken off. Abby sets everything out in a clear and comprehensive manner. The content was well delivered and has impacted my decision making and time management on a day to day basis. I can't thank Abby enough for creating a space where ambitious, enthusiastic entrepreneurs can not only dream, but also begin to make those dreams a reality!
Dominic Hall, UK
Abigail created a time-management action plan for me following an initial consultation which has helped me to prioritise and define my business growth strategy. In turn, this has led to increased sales. Abigail comes highly recommended for business owners and entrepreneurs looking to make more effective use of their time, increase sales and improve productivity.
Rick McMunn, UK
Thank you Abby, the goal setting for success program helped me to focus even clearer on my next life and business goals, I left the event feeling even happier and more excited, I would recommend this event to any business owner who wants to supercharge their success in 2016.
Kim Wymer, UK
The Goal Setting for Success Program was the perfect way for me to prepare for 2016 - it not only gave me the time to plan but also a process to get real clarity on my business and life goals for the coming year, along with an action plan to achieve them. Thanks to Abigail I was able to identify my key priorities, rather than spreading myself too thin in many areas. I've come away with renewed excitement for my business. The program has also armed me with tools to overcome times of procrastination and overwhelm in order to make my goals a reality. I highly recommend Abigail and this program to anyone wanting to take their business to the next level in 2016! Really awesome!
Jess Christiansen, Australia
After doing the Goal Setting for Success Program, I feel excited to apply what I learned to my business. I have some great new techniques that I can use to tackle procrastination and beat overwhelm. I have a clear growth vision for my business and life in 2016. Thank you Abigail, I highly recommend this Program to any business owner that wants to make 2016 their best year ever.
CoralHamze, UK
Thanks for the very informative lunch and learn today, I thought it was very well presented and thought-provoking, and it's always good to hone your own time-management techniques and get a little perspective.
Eddie George, UK