How to Create Your 4-Day Work Week Game Plan (2-Hr Workshop)
Description
Create the Plan to start Living the Lifestyle you most desire...
while making more income in 20% less time...
so you can better enjoy your family, your friends and your life.


As entrepreneurs, most of use start our business so we can have 3 freedoms...
1) WORK Freedom (Do what we choose)
2) MONEY Freedom (Earn what we're worth)
3) TIME Freedom (Work when we like)
Most of us work on our WORK & MONEY Freedom as soon as we start our entrepreneurial journey, but we delay our TIME Freedom for "Someday."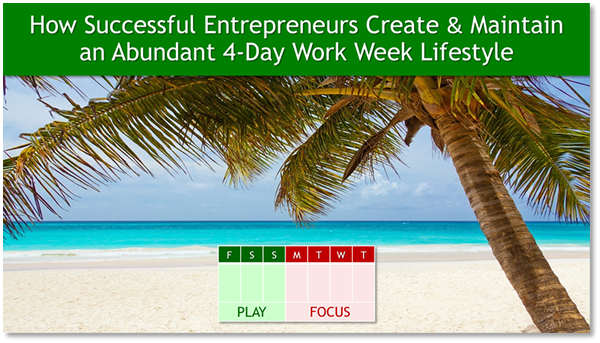 If Wayne Gretzky is right that we miss 100 percent of the shots we never take, it's obvious to understand why most entrepreneurs don't work a 4-day work week (or similar lifestyle).
Creating a 4-Day Work Week lifestyle takes work and focus (like anything else worth achieving), but it doesn't have to take forever.
If we've chosen our WORK & MONEY freedoms, we can choose greater TIME freedom, too.
In this workshop, I'll help you create your 4-Day Work Week Game Plan.
You don't need permission to create the lifestyle you most desire.
Just create your plan and start moving in that direction.
Some people take 30 days, some take longer (took me 22 years), & most never even try.
Learn the 12 Steps to Creating Your Game Plan, and start your journey now.