Description
Join us for a Twitter Chat hosted by influencer, Chelsea Krost - together with Vanessa Shaw, and other influential leaders in the space we will be exploring:
How anyone can create an entrepreneurial culture at any workplace. We will dive into questions like:
What does an entrepreneurial culture look like?
It is ok to compete at work? Is there such thing as healthy competition?
How can I influence the workplace culture?
What is the best way to approach your boss with a new creative idea?
We are excited to have the incredible, Chelsea Krost join us in hosting a twitter chat, where YOU get to connect with thousands for a dynamic discussion.
Chelsea Krost is one of America's leading Millennial influencers, Millennial marketing and brand strategists, a sought-after keynote speaker, media personality, and the #MillennialTalk chat host. Her passion for empowering the Millennial generation has shaped her brand. Chelsea's influence reaches everywhere, shaping marketing strategies of not only small businesses but Fortune 500 corporations.
Vanessa Shaw, Culture Expert & Workplace Innovator will be sharing her experience working in culture career for 10+ years. As an entrepreneur and founder, she has found that the most exciting places to work adopt entrepreneurial habits, and she wants to empower you to do the same at your workplace, no matter what kind of company you work for. Connect with Vanessa on Twitter @humansideoftech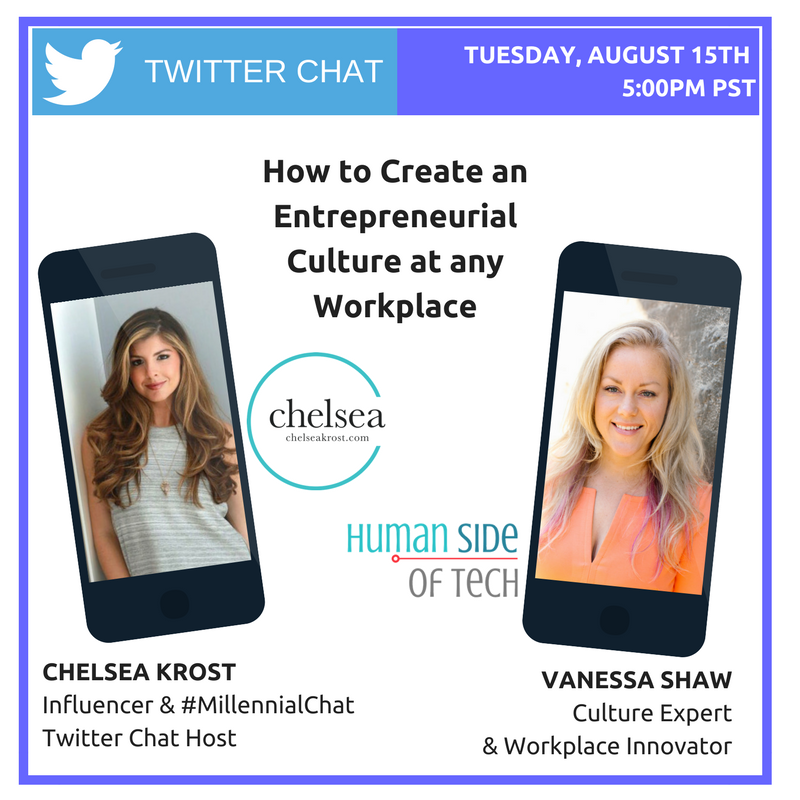 Chelsea has been hosting #MillennialTalk Twitter Chat since 2012. Her first Twitter Chat generated 18 million impressions and has only continued to grow. Today, #MillennialTalk chat generates between 40-50 million impressions per one-hour chat. The Upstart Business Journal has coined Chelsea, "The Twitter Chat Queen." Chelsea has created customized Twitter Chats and influencer alignment for brands like MasterCard, Intel, Vitaminwater, Suave, Kyocera, Kotex The International Rotary, IBM, TurboTax, and others to amplify brand messaging and meet specific objectives.
Check out this Forbes article about Chelsea, How did this 25-year old create her #dreamjob speaking for the Millennial generation and being a brand ambassador?
Event Type: Social, Twitter Chat
Event Focus: Q&A, Discussion
5:00pm Chat Kick-off
6.00pm Twitter chat ends