How to Create an Effective Marketing Plan (Fundraising Cert. Course 1 of 7)

Thursday, January 8, 2015 from 9:00 AM to 10:00 AM (PST)
Event Details
JANUARY 2015 Fundraising Certification Course 1 of 7
How to Create an Effective Marketing Plan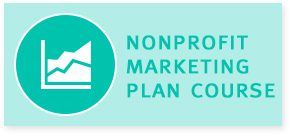 Benefits
You will receive ...
Nonprofit Marketing Plan Online Course by Network for Good. Learn how to create a marketing plan with a clear outreach strategy that moves people to act. Developed by nonprofit expert Nancy Schwartz, this online course will walk you through step-by-step in how to identify your ideal target audience, build a marketing plan that gets results, and learn how to measure your progress.
Exclusive Templates and Expert Reviews from Network for Good - Receive 1) A step-by-step guide to create your nonprofit marketing plan; 2) Nonprofit marketing planning worksheet, persona checklist, examples, and more; and 3) Expert review of your marketing plan and feedback on your questions.
2 Pre-/Post-Training 60-Minute Teleconference Calls with regional marketing expert and radio show celebrity Cheri Hill - Calls are designed to bookend (pre-/post-) your online course training with Network for Good. They will motivate and guide you through the process of completing the course, learning new content, and completing your certification requirements. Join a community by phone! Both teleconferences will be held live at 9 am: January 8 (pre-call) and January 29 (post-call). Audio recordings will be available if you are unable to attend "live" or want to review calls.

Free 60-Minute Webinar: Right-Things, Right-Now Marketing Plan - In this exclusive webinar on demand, nonprofit marketing expert Nancy Schwartz shows you how to create a marketing plan that focuses on the right priorities for your organization with a clear outreach strategy that moves people to act.
Process
Step 1

– Attend the pre-call on January 8 at 9 am.

Step 2

– During 3 weeks between teleconferences, complete the Nonprofit Marketing Plan Course online by

Network for Good

on your own, at your own pace, in the privacy of your own home or office.

Step 3

– Attend the post-call on January 29 at 9 am.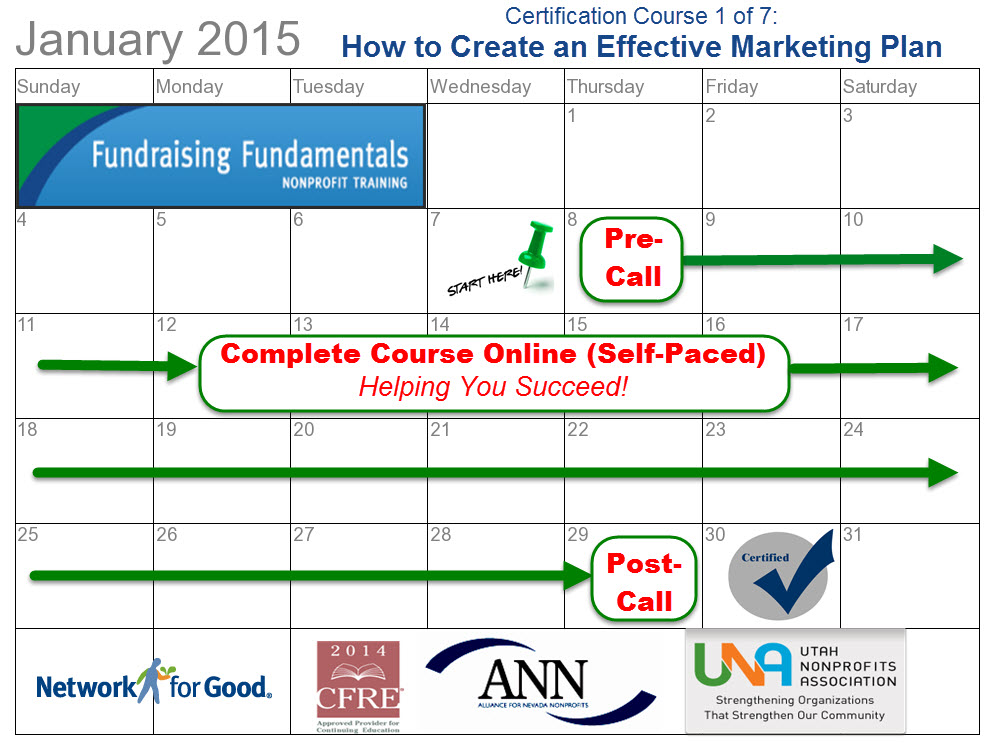 Course Content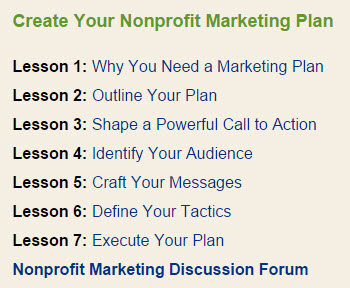 Cost?
$10 = ANN Members for Module 1 (BEST VALUE*)

$60 = Non-Members for Module 1

Not an ANN Member, Yet? Click here to join ANN for as little as $75/year (sliding scale based on annual budget) for unlimited employees/board members from your nonprofit to access this training as well as access 14+ valuable ANN member benefits. *Save up to $350 per person for the complete 7-course Fundraising Certification!

ANN 7-Course Fundraising Certification

Each month starting in January 2015 through July 2015, ANN will offer a never-before-seen, hybrid fundraising training focusing on one important fundraising topic per month:
7-Course Schedule 2015

Marketing Plan (January 2015)

Donor Thank You & Retention (February 2015)

Social Media Strategy (March 2015)

Nonprofit Websites (April 2015)

Email Acquisition (May 2015)

End-of-Year Fundraising (June 2015)

Single-Day Giving (July 2015)


Certification
When you complete requirements for each monthly module, you are eligible to receive a certificate from Network for Good as well as be eligible for continuing education points through Certified Fund-Raising Executive (CFRE) International. Complete all 7 monthly modules, and you will be eligible for a Fundraising Series Certificate from the Alliance for Nevada Nonprofits (ANN).
Each month, ANN plans to offer a different monthly Fundraising certification course (see schedule above) with 2 pre- and post-course teleconference calls.
Organizer
Strengthening communities by increasing the influence and capacity of Nevada's nonprofit sector