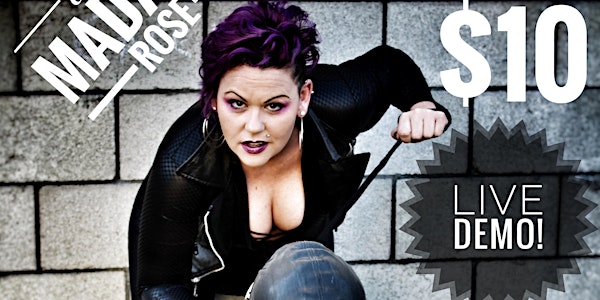 How to Craft an Extreme Scene [feat. Madame Rose]
From pre-scene, to scene safety and tips for more risky play this class is great for intermediate and skilled players.
Refund Policy
Contact the organizer to request a refund.
Eventbrite's fee is nonrefundable.
About this event
910 CLASSES ARE ALWAYS IN PST TIME!
**PLEASE NOTE!** All 910 Classes are being offered virtually only, not in person. This is because of the covid-19 pandemic. See below for more details on what we mean by "live". On the night of the class, you will receive an email around 6:30pm PST from the account you registered with on Eventbrite that will contain the zoom meeting link and any additional attachments. For more information, please contact us at info@910weho.com . Thank you!
Perhaps you have been playing for a while and looking for something to intensify your play or maybe there is some fetish or fantasy that you are really wanting to try but not sure how to get started? Creating intense or extreme scenes can be overwhelming and intimidating.
In this class we explore the ways to build an extreme scene that will step up your play time and create new and exciting moments. From pre-scene, to scene safety and tips for more risky play this class is great for intermediate and skilled players. The clas will also feature a live demo of some extreme play with Cece Lachey followed with a Q&A session. Bring your questions and thirst for the extreme!!
About the teacher
Madame Rose is a lifestyle and professional Dominatrix based out of Los Angeles. Extreme or intense play is her part of her natural style. Things like kidnap, interrogation, heavy bondage, breath play and extreme mindfucks are just a few of her favorites. Her years
of experience as well her love of live performance have allowed her to perform some very intense and extreme scenes on stage for audiences all over North America. Her unique and professional teaching style provides a great space to learn and explore. You can
find more about her at yourMadameRose.com.
~*~*~*~*~*~*~*~*~*~*~*~*~*~*~*~*~*~*~*~*~*~*~*~*~*~*~*~*~*~*~*~*~*~*~*~*~*~*~
WAIT. What do you mean, live? Aren't you closed due to coronavirus restrictions?
Yes, we are closed to the public and have been since March! But we have created a sterile, socially distanced environment to film hard skill classes in with better quality equipment and lighting to stream over zoom.
Can I get a ticket to attend in-person?
Sorry friend...no. We are only able to ensure that our instructors and their demo bottom(s) have the space they need by limiting the number of bodies in the building. We will have our small crew of 2-3 people filming on site and that's it.
Will you offer hybrid classes or events in the future?
Once it is safe to open our doors to a limited audience, we will start to offer hybrid classes that will have a very small number of in-person seats and zoom access for everyone else. Right now, filming on-site is the first step in a long process to provide better content while still upholding the strict health and safety guidelines put into place to protect us all. As events unfold in the world around us, we will continue to adjust and grow.