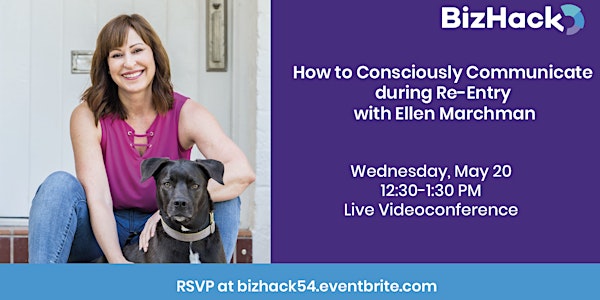 How to Consciously Communicate during Re-Entry
Strong client relationships begin with trust and that begins with communication
About this event
How to consciously communicate during re-entry.
Strong client relationships begin with trust and that begins with communication. Ellen Marchman will share communication tools to strengthen client longevity, business partnerships, and grow mutually enriching relationships in our "new normal."
Studies have shown that better communicators get paid more, are happier, have less stress, and elevated business (and personal) relationships. In addition, organizations that are the best in engaging their employees and clients achieve earnings-per-share growth more than four times that of their competitors.
Remember those early quarantine days when you felt "We are in this together"? You asked, "How can I help?" and "What do you need?" You called clients you usually would have emailed, you Zoomed with business associates, you called friends instead of texting.
We can't lose the value of connection in re-entry. Conscious communication is talking and listening with intention. This starts with who you choose to be. You can shape the conversation's results with what you say and how you say it.
During this live webinar you will learn:
Intentional communication
Active listening
Resolving conflict
Ellen will be in conversation with Dan Grech, the founder of BizHack Academy and host of the #BizHackLive webinar series.
How to join the session:
Make sure to RSVP through Eventbrite to receive all details via email
Help us fill out this survey beforehand
Wednesday, May 20 from 12:30 to 1:30 pm
Free and open to the community
About the "Keeping Your Business Alive During Covid-19" Live Webinar Series
"BizHack is doing a great service to the community with these webinars. It's what people and businesses need right now." Sue Romanos, CEO Emeritus of CareerXchange.
"Thanks for this amazing resource. It has given me a LOT to think about. Keep up the great work." Susan Windmiller, former Legislative Director for the Miami-Dade Police Department.
"Great job on the webinars that are both helpful and really build your brand. I am impressed yet again by your creativity and professionalism!" Amanda Elam
BizHack Academy, a leading provider of advanced digital marketing training and recruiting services, is organizing a series of weekly webinars for the business community on how to communicate, market and survive during and after the coronavirus crisis.
More About Ellen Marchman
Ellen has 20+ years in the communications industry. She founded her company, Get Ink PR in 2005, specializing in wellness and hospitality clientele, with in-depth crisis communication strategies. The National Association of Professional & Executive Women honored Ellen as an exclusive member for "Women of Excellence". She is also a published writer and will share conscious communication strategies to help develop and support all relationships.