How to Conquer Overwhelm At Work and Home

Weekly Event - Every Wednesday: 12:00 PM to 1:00 PM (EDT)
Event Details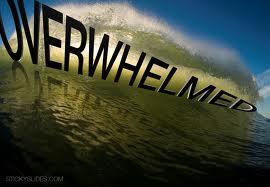 Are you overwhelmed at work?
Is stress and burnout getting the best of you?
Is your health and/or happiness suffering from too many demands on your time and energy?
 
You do not have to settle for a life of overwhelm.  
It's not your only option even though others around you have settled for a life of overwhelm, exhaustion and busyness. 
In my four week course, How to Conquer Overwhelm, you will:
Learn why it is vital to your health and happiness to conquer overwhelm NOW
 
Discover the traps that will keep you stuck in overwhelm and how to avoid them
 
Receive 5 key strategies to conquer overwhelm
 

Begin to thrive as you conquer overwhelm
Getting new information is a critical FIRST step in making changes to your thoughts, actions, and attitudes.  
If you want to break free from overwhelm, ASAP, the next best step is to develop your customized action plan with coaching. Coaching exposes your sabotaging beliefs and actions; provides objective feedback and alternative options regarding your obstacles and success along with encouragement to conquer overwhelm.  
Coaching speeds up the change process and achievement of goals. 
Please use the Early Booking discount code:

World Record

for a $90 saving  ($329 vs $419) Discount expires July 14, 2013
Organizer
Susan Brown of Impact Coaching
Susan Brown, Founder of Impact Coaching, is a Christian Life Coach and 20-year breast cancer survivor-thriver.
Susan helps clients shift from surviving to thriving to live a life of vitality, destiny and impact. She uses a consultative coaching approach that blends the power of coaching for self-discovery with science-based and faith-driven strategies to optimize potential, growth and change. 
Susan is an author, speaker and coach who trains and equips leaders to optimize their impact. She has worked with leaders and nonprofit orgs combatting human trafficking, domestic violence, children in foster care, hospice, cancer and others.