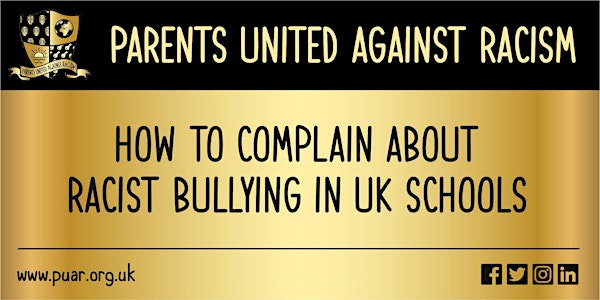 How to Complain about Racist Bullying in UK Schools
Support for parents whose complaints of racist bullying are being ignored and/or not taken seriously.
About this event
Racist bullying in school is a crime!
If your child is or has been racially bullied at school by another pupil or a teacher a hate crime had been committed. And you need to report it in the first instance to the Headteacher. This can be an overwhelming process when you already feel angry and upset by the racism that your child has endured. Racism can make your child feel anxious, withdrawn and less-than. These feelings can lead to your child disengaging with the education (that they have a legal right to), which can seriously affect your child's life chances moving forward into the wider society.
Racism is not just about the colour of your skin, it is also when someone is treated differently or unfairly because of your culture, ethnicity, nationality, or faith.
This online monthly event aims to empower parents and get justice for their kids. It's a safe space to talk openly about the racism that occurs in UK schools and to get the support you need. So please join Parents United Against Racism (www.puar.org.uk) to find out how to make a formal complaint of racism to a headteacher (who most likely has no lived experience of racism) so that your complaint doesn't get swept under the carpet.
#PUAR #CallItOut
www.puar.org.uk
Please follow us on social media:
https://www.linkedin.com/company/puar
https://www.facebook.com/puar.org.uk
https://twitter.com/PuarOrg
https://www.instagram.com/puarorg/