Event Information
Location
Business Success Center - online only
1912 W. Anderson Ln. #207
Austin, TX 78757
There are 101+ ways to fund a business but they are not all equal. What's the best one for you and your business? Explore your options.
About this event
Join Jan Triplett to talk about your funding needs and how to decide your best option — not just what company, grant, etc. to pursue. This is an interactive session to work ON your funding plan. Come with questions and an idea of your timeline and priorities, major factors in how to make your decision.
There could be something important missing in your potential for funding success. As a fundraiser, you need to bring certain skills and abilities to the plan and the process. See if you have "the right stuff".
Can you add to her list of options and are you willing to share your experiences and insights? All are welcome.
This is for pre-starts, re-starts, and existing businesses. If you are a non-profit or want to start one, Triplett will share what she has learned from being one of three original "foremothers" of the Women's Chamber of Commerce of Texas and work with other non-profits.
-------------------
Our speaker:
Jan Triplett, Ph.D. CBTAC has served as an access to capital expert for a state training program created by a former Texas Governor. She has been honored by the SBA as Texas Small Business Advocate and was a delegate to both the White House Conference on Small Business and the Congressional Summit on Small Business. She was a Certified Technical Advisor for a local bank; been a guest expert for The Business Bank of Texas, and is currently a TWC Certified Business Technical Advisor Consultant.
As CEO of the Business Success Center*, based in Austin, Texas, she has provided funding support and opened doors for many small businesses seeking funding through grants, loans, investors, and allies. She has successfully assisted clients to get things done using many of the other 100 ways to fund a business that she has identified.
For four years she has also taught Finance and Accounting, Internal Governance, and External Governance (compliance) in the Susan Nolan Palmer MBA program at Mary Baldwin University.
*BSC Sustainability Experts.
Our proven and award-winning socially responsive programs focus on improving your triple bottom line balancing profit with care for people and the planet. We have also just been honored as hosting one of the Austin area's Best Business and Networking Groups (for BSC Business Success Forum** http://bit.ly/BSCForum) by the Austin Business Journal.
**Forum:
A public meeting place for open discussion where ideas and views on business issues are exchanged.
Please join my meeting from your computer, tablet or smartphone.
https://global.gotomeeting.com/join/171690173
You can also dial in using your phone.
United States: +1 (872) 240-3311
Access Code: 171-690-173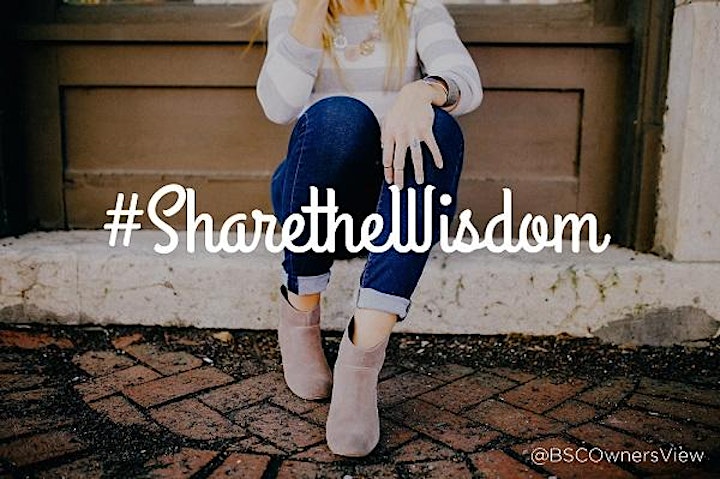 Date and time
Location
Business Success Center - online only
1912 W. Anderson Ln. #207
Austin, TX 78757