Description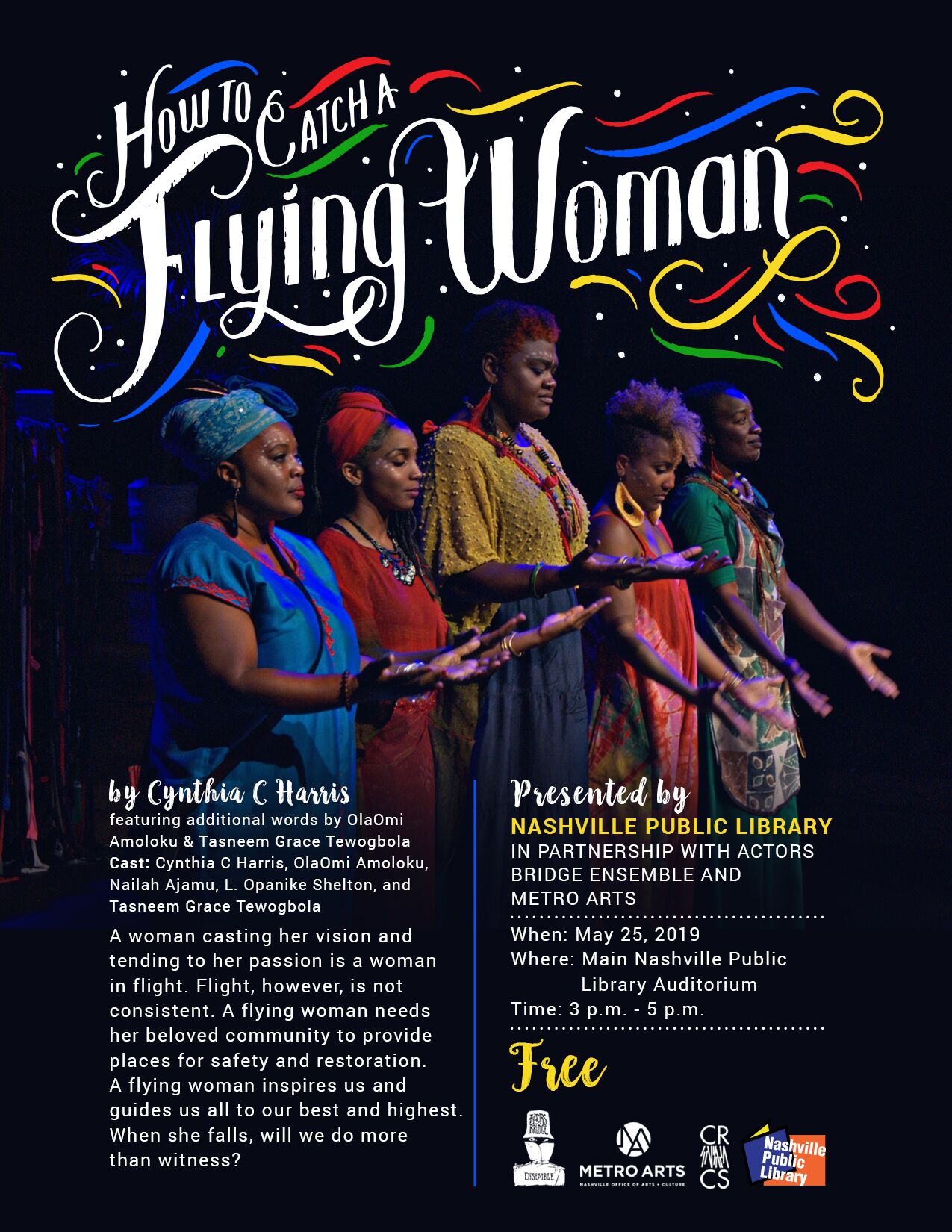 THE EVENT IS FREE, BUT RESERVATIONS ARE STRONGLY ENCOURAGED TO GUARANTEE SEATING!
**Recommended for mature audiences only.**
---
RESERVATIONS ARE NOW AT CAPACITY. Nashville Public Library is providing additional seating in the Conference Room adjacent to the auditorium where the performance will be live streamed.
To be added to the WAITING LIST, sign up here.
We will release any unclaimed seats in the auditorium to those on the waiting list in the order in which they were received.
We are asking any of our ticket holders who find themselves unable to attend to let us know so that we can accommodate those on our waiting list.
If you would like to add your name to the waiting list, you have a stronger chance of getting a seat in the Main Auditorium.
Organizer of How to Catch a Flying Woman
WE ARE
We are a Meisner Technique training program for new and seasoned actors.
We are a women-led theatre company of Nashville natives dedicated to telling the stories our hometown needs to hear.
We are committed to taking big risks in the service of authentically reflecting the human condition.
We are in love with broadening what is considered theater in our community.
We are people who help others find their voice and speak their truths on stage and in life.
WE BELIEVE
We believe in theater's power to heal us in a thousand places we may not have realized needed healing.
We believe that the theater is a sacred calling: we make a promise to our community to stay emotionally connected in a world that praises going numb. We promise to feel and remind our audiences how good feeling can be.
We believe in the ensemble principle. The person you see on stage in one show you will likely see behind the light board in the next. The person selling tickets may also be a budding new playwright. Your usher is likely an aspiring actor.
OUR MISSION
Our mission is to tell the stories Nashville needs to hear as we train theater artists, produce socially conscious plays, create new work, expand what counts as theater in our community, and help artists and audiences care more about their neighbors and themselves.
We are the home of Act Like a GRRRL and First Time Stories. 
Phone Number: 615-498-4077. Email: info@actorsbridge.org
Studio location: Darkhorse Chapel, 4610 Charlotte Avenue, Nashville, TN 37209
We perform at our studio and the Darkhorse Theater and other venues around Nashville.