Description
Start living the Dealmaker's Life, with the help of Jonathan Jay. To put more money in the bank…and free up the time to enjoy it!
Whatever you want out of life, dealmaking holds the key. It gives you money. It gives you time. And unlike running a regular business…or consulting…or employment…it never gets dull!
Every day brings its own thrills - and rewards.
Jonathan Jay knows this. He's been making deals for the last two decades. And at this unique – FREE – event, he'll be sharing priceless insights from the 12-step dealmaker system that's earned him millions. Including:
• How to buy a 7 or 8 figure business, with £1 from your pocket
• Eagle-eye methods to transform your new business in under a year
• How to build a portfolio and a massive monthly income
• Who'll buy you out – and give you enough cash to retire?
This takes work, of course! But ask any dealmaker – it doesn't feel like work. You don't get tied to a desk all day. And you don't get bogged down in details. You just give the business a steer, and let your new staff do the rest.
It's all covered in this lively day. So by the time you leave, you'll be primed to bag your first deal…negotiate the sale…find the hidden profits…and finance the life you dream of.
PLUS – find out how to become Jonathan's next business partner!
Places are limited. So select a date and secure your ticket now.
Regular Guest: £0
Come grab a complimentary seat. Even the coffee is free!
VIP Guest: £40 plus VAT
The regular ticket plus a few juicy extras:
• A full detail, full colour workbook. Taking notes can be a manic race, to get down every idea. So you'll get over 100 pages – that's every slide - to save your writing arm, and capture every detail.
• A 3-course lunch – plus unlimited refreshments throughout the day.
• Priority Seating. Sit up front, so you don't miss a word. And if there's time for questions, VIPs get to ask first.
VIP Extra: £199 plus VAT
Enjoy the VIP experience, and join Jonathan at a private table over lunch.
(LIMITED AVAILABILITY: 10 PEOPLE ONLY – NO EXCEPTIONS)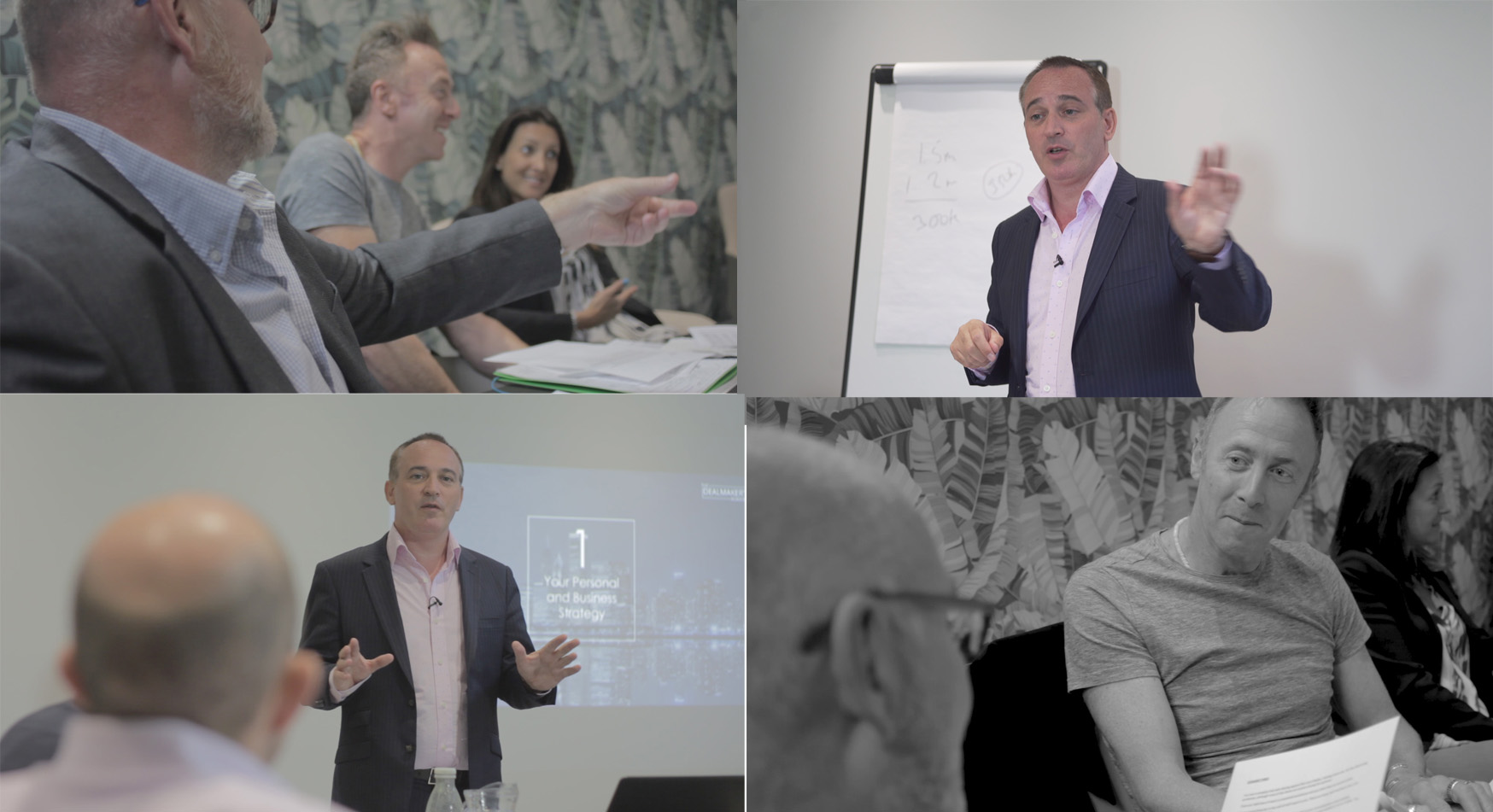 "Every business owner…every investor…every bored employee…should make this event their number one priority. Jonathan has been building, buying and selling businesses for 20 years, and he's holding nothing back here. In the space of one day, he shows you how to find a business you can take over, then improve it and sell it on – all without any personal investment or financial risk. I'll admit, I was a little daunted at first, as it's a complex subject - but the 12 Step Blueprint makes light work of it, and I can't believe how much I know now that I didn't know this morning! Anyone with drive and common sense can make this a success, so if you're looking for more freedom I can't recommend this enough."
James Daniel
"Wow! I've had over 23 years of running my own business and in one day with Jonathan my eyes have been opened to a whole new way or working. An information-packed day with practical advice that has changed the way I see business. Real value for money as I now have a plan and can't wait to get started!"
Sara Davison
"This is a niche like I have never seen before. I wasn't aware of the potential that exists in buying an existing business and the ease with which this can be done.
Jonathan puts his years of expertise into this one day and reveals the opportunity to be had for us all."
Pete Cohen
"I'm buzzing with ideas and excitement about businesses that I could buy, grow and sell. This brilliant day has taught me a whole new attitude to turning business acquisition into a career and lifestyle opportunity."
Ed Peppitt
"Excellent day's training which will enable anyone to buy and sell businesses for profit with no money down. Jonathan Jay has structured this content in such a way that makes it easy to follow no matter if you are starting out or a seasoned investor. Highly recommended."
Pete Bennett