Is personal branding important? How to build it effectively? Get to know your answer and other perspectives in our webinar.
About this event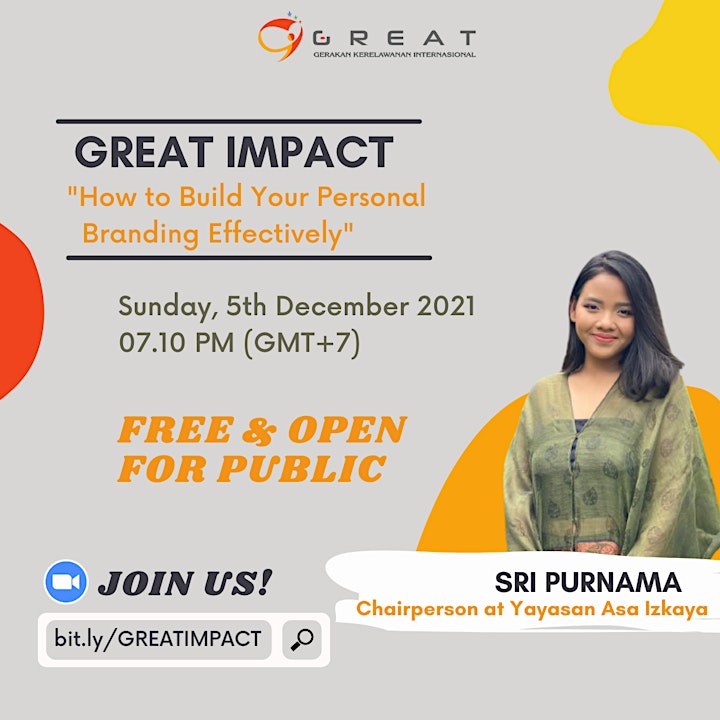 "Your brand is what people say about you when you are not in the room." (Jeff Bezos, The Founder of Amazon)
As it's commonly known, the term "personal branding" has become fundamental to presenting someone's identity to the world. Since building a personal brand doesn't happen overnight, it's important to communicate the purpose and mission to the audience in an effective way.
Do you have any experience in building your personal branding? Let's share in GREAT IMPACT!
What will you get:
Presentation session from the guest speaker
Group discussion focused on the topic
New friends/networking and valuable insights to boost your personal branding
Organizer of How To Build Your Personal Branding Effectively
GREAT Impact is a local forum, created by six GO City in Bandung, Pekalongan, Semarang, Salatiga, Tulungagung, dan Yogyakarta, supervised by NGO Gerakan Kerelawanan Internasional (GREAT) based in Salatiga, Indonesia. It is created as a collaborative service to share, learn, and discuss various topics related to nowadays' issues among youth, especially the matters related to personal development, social issues, and environmental issues.