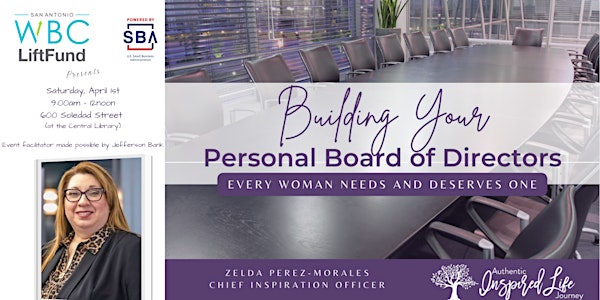 How to Build Your Personal B.O.D. (Board of Directors)
Every woman needs and deserves a team of people who can act as an Inner Circle...like a company's Board of Directors – except it's personal.
Date and time
Saturday, April 1 · 10am - 1pm CDT
Location
Women's Business Center - Inside the Central Library 600 Soledad San Antonio, TX 78205
About this event
Every woman needs and deserves a team of people who will offer perspective, guidance, support, knowledge, connections, strength, and opportunities for expansion, growth, and accountability to her career, business, and life journey.
Often though, other things in life get in the way of putting in the time and energy to form a Personal Board of Directors and being able to take advantage of the benefits it can bring. If you're not surrounding yourself with the right people to help you achieve your goals, it's time to get intentional about it.
Register HERE
Join us for this robust workshop led by Zelda Perez-Morales, SVP, Director of Training at Jefferson Bank, and Chief Inspiration Officer of Authentic Inspired Life Journey, where you'll engage in personal discovery, thinking, and planning, and you'll learn how to build a Personal B.O.D. (Board of Directors) and activate value from it.
About the SA WBC
The Liftfund Women's Business Center is dedicated to supporting entrepreneurs, especially women and underserved communities.
The LiftFund San Antonio Women's Business Center is funded in part through a Cooperative Agreement with the U.S. Small Business Administration. This institution is an equal opportunity provider and employer. Reasonable accommodations for persons with disabilities will be made if requested at least two days in advance. Contact SA WBC Customer Service at 888.215.2373 ext. 3000 or wbc@liftfund.com.
Are you new to the Women's Business Center? We invite you to become our client. Our services are FREE. From pre-venture to established businesses, you'll find plenty of valuable information as well as next steps and special WBC Insider tips.
If your business operates within our service area (see below), then we'd love to help! Sign up HERE.
About the organizer
LiftFund is one of the nation's largest non-profit community small and micro business lender. Our mission is to provide credit and services to small businesses who do not have access to loans from traditional sources.