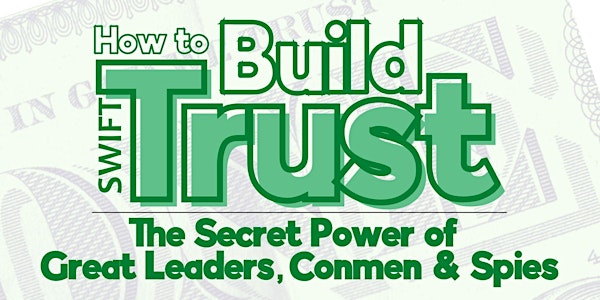 How to Build Swift Trust: The Secrets of Great Leaders, Conmen, & Spies
How do great leaders, conmen, and spies build swift trust to do their work? Learn the secrets you can start using today.
About this event
Great Leaders, Conmen, and Spies are skilled trust-builders. In this workshop, you will learn how they do it, so you can use their secrets to create a high-trust team.
Here's the stats from Harvard Business Review...
Compared with people at low-trust companies, people at high-trust companies report:
74% less stress
106% more energy at work
50% higher productivity
13% fewer sick days
76% more engagement
29% more satisfaction with their live
40% less burnout
In this interactive workshop, you will learn the 3 types of trust in the workplace, the neuroscience of how we trust, the fastest way to build trust, and the link between trust and game-changing innovation.
Seats are limited, so send us a message at dan@hi.training if you need to join the waitlist.
Your guides:
Mike Mears:
Mike retired as the CIA's Chief of Human Capital where he founded and headed the CIA Leadership Academy. He is a leadership trainer and consultant to government and private sector organizations and specializes in new approaches to culture change.
Prior to CIA, Mike was senior vice president at GE investments where he managed private equity funds, was a turnaround specialist, and a Six Sigma Black Belt. Before that, he launched eleven small business start-ups and was president of a fast-food company. Mike served as commander of a nuclear missile site, a general's aide, and was decorated for valor as a U.S. Army combat platoon leader in Vietnam.
He earned his undergraduate degree at the U.S. Military Academy at West Point and his MBA from Harvard Business School.
Mike teaches or lectures on leadership at the Department of Defense, Georgetown, the University of Salzburg, and the University of Maryland
Dan Manning
Dan is the Lead Instructor of #HumanIntelligence, a problem-solving framework designed to help individuals and teams improve their critical thinking, creativity, and collaboration skills.
He is the author of the book, Thinking Better—Critical Thinking and Creativity Through Trusting Collaboration. Dan combines his career of military problem solving with the latest scientific research to unlock the power of better critical and creative thinking.
His wide-ranging career in the United States Air Force provided a rich well of experiences around the world. Whether serving as an A-10 fighter pilot, warrior-diplomat in Central Asia, lead negotiator with Russian operational forces in Syria, or leading the air campaign against terrorists in the Middle East, Dan found better thinking to be the answer to many of America's toughest problems.
Today, he helps businesses, non-profits, and governments apply critical thinking and creativity to their hardest problems.
Dan earned his undergraduate degree from Samford University in Birmingham, Alabama and his Master's degree in International Relations from the University of Oklahoma. Before deciding to turn to the pursuit of better thinking full-time, he was an International Development PhD candidate at the University of Southern Mississippi.
Dan is also the lead instructor the James Madison University Certificate in Leading Human-Powered Innovation.