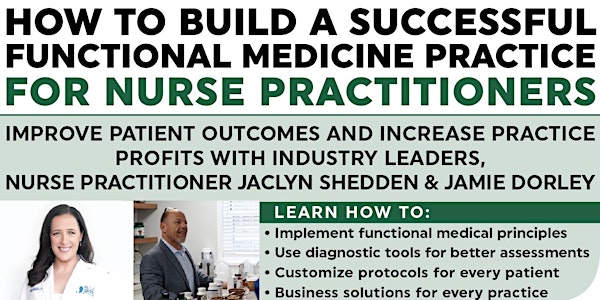 HOW TO BUILD A SUCCESSFUL FUNCTIONAL PRACTICE FOR NURSE PRACTITIONERS
IMPROVE PATIENT OUTCOMES AND INCREASE PRACTICE PROFITS WITH INDUSTRY LEADERS, NURSE PRACTITIONER JACLYN SHEDDEN AND JAMIE DORLEY
About this event
LEVEL 1
MONTHLY GROUP ZOOM TRAINING -
LEARN HOW TO:
• Implement functional medical principles
• Use diagnostic tools for better assessments
• Customize protocols for every patient
• Business solutions for every practice
LEVEL 2 - INQUIRE FOR CUSTOM PACKAGE OPTIONS
1 ON 1 PROFESSIONAL MENTORING
A professional mentorship for nurse practitioners. Learn how to build a profitable and rewarding cash based, functional medicine practice from the ground up. Work one on one with Jaclyn to learn how to start and operate a thriving practice. Whether you have years of experience as a nurse practitioner or are just starting out, having your own practice provides the freedom to focus on the root cause of disease. Feel empowered and make a long-lasting impact on your patients' lives. Get the education and training you need to transform medicine and help those in need, who are searching for your services.
WHAT YOU WILL LEARN:
• How to start a practice
• Effective patient protocols
• Implement different revenue streams
• Keep overhead low
• Patient case studies
• 1-on-1 shadowing