How to BUILD A EV CAR

Saturday, November 21, 2015 from 7:00 PM to 10:00 PM (PST)
Event Details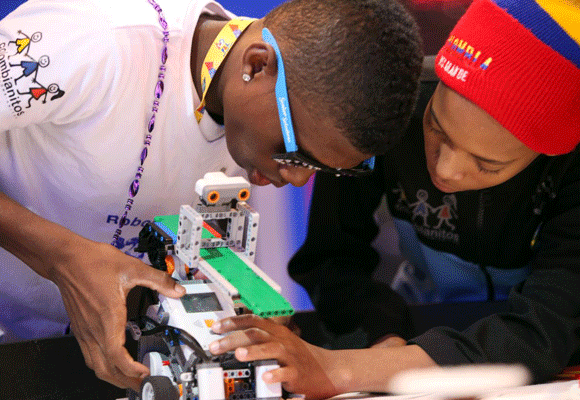 Benefits include:
Step by Step assembly instructions - Purchase of The CITYLab Kit includes step by step instructions for assembly of your IOT Project.  
Our classes cover network creation (MESH Networks) across routers/switches in cloud-based management systems.
Take-A-Away Team events that include instruction on design, build, and drive EV Vehicles, and Recharge Stations, etc.....CityLab has it all for you to explore in a Day, several weeks, all to help you earn a Cisco Network Essentials Certification.

Assembly instructions are provided in written and video formats and start with receiving your shipment and conclude with testing the completed vehicle. 
Access to membership forums - The place where instructors communicate directly with each other and share ideas, tips and concerns. 
Access to The CITYLab lecture series - Lectures are being updated and new lectures are being produced on a regular basis, members can download lectures and lab free of charge. 
Project Challenge Participation - Periodically The CITYLab presents challenges for instructors to offer their classes as we way to stimulate thinking, ideas and participation. 
Currently there are over a dozen power point presentations available for downloading.  Presentations are between 15 minutes and 90 minutes in length and include and entire lesson. 
Introduction to the Internet of Things
Sources of Electricity and Connectivity
CityLab Kit Components
How to Build a Internet Radio
Blinking LED
Multi-Color LED
Write a word to LCD
Make a wireless phone call
Make a Social Alarm Clock
 Also included are several wiring diagrams, a spreadsheet used to calculate several CityLab specific variables, motor wiring options and component specification sheets.

When & Where

TechShop San Jose
300 South Second Street
San Jose, CA 95113


Saturday, November 21, 2015 from 7:00 PM to 10:00 PM (PST)
Add to my calendar
Organizer
Maximum Balance Foundation SPC was created as a partnership between business leaders, educators, and accelerators to address the need to prepare students for professional Information Technology Network Support Careers.
Together, we offer Good Relationships to all and hope to children and their families.
CityLab Professional: Learn without Limits
Visionary leadership, practical experience and drive toward action have helped many diverse groups move one step closer to their own digital educational vision, we celebrate that idea by building a proving ground for Makers called CityLab Professional.
CityLab is pioneering a path to jobs that are yet to be needed as we move towards the world where 'things' are connected to each other over the internet, giving not only critical skills information, by offering third-party certification and on-the-job opportunities we excel in reducing recidivism.
The CityLab Network Academy strategy is to provide State-Certified Technical Training programs in a Productive Laboratory, involve an attempt to serve over 50,000 students in over 8 Academies in 8 states and the District of Columbia in urban schools through small learning communities.
We are enthusiastic and willing to help regional, state, national and global educational organizations work in partnership with their community to establish IoT Career Pathway Models.
Start-up Weeks & and Hackathons
Our events introduce three NGOs, describing both their methodologies and results; to inspire city leaders, economic development teams, and localists with the tools they need to move from hopelessness to tangible progress; to create a renewed sense of community and to understand how and when to invite an innovation partner to come in and inject their methodology, thinking, and best practices.
Entrepreneurs in Residence
The 36-month outcome is a lean startup group of secondary schools, community colleges, labor agencies, and employers and industry representatives that commit to building career pathways leading to jobs in high-demand industries that offer stackable credentials (i.e., a sequence of credentials that can be accumulated over time); in advance of anticipated IT Sector growth.
CItyLab Professionals help from the artisan community to assist in our one-year pilot makercity project, coming this year to Hayward, CA!