Sales Have Ended
Registrations are closed
Sorry you missed this event. Please go to my UAE Facebook page here for updates on other events. https://www.facebook.com/khabir.emerates Go to register for upcoming events: https://www.eventbrite.com/o/khabir-southwick-naturopath-mh-nt-cas-12926520648
Sales Have Ended
Registrations are closed
Sorry you missed this event. Please go to my UAE Facebook page here for updates on other events. https://www.facebook.com/khabir.emerates Go to register for upcoming events: https://www.eventbrite.com/o/khabir-southwick-naturopath-mh-nt-cas-12926520648
Description
Free Talk:
How to Boost your Immune System and Never get Sick!
An informative talk on boosting one's immunity system naturally through Ayurvedic tips and Dietary & Lifestyle modifications. A strong immune system is at the heart of our very wellbeing so we can fight off most diseases and conditions that come our way. Fortunately, there are many natural immune system boosters.

You will learn about:



Healthy foods to support immune health

Whole food supplements to support a healthy immune system

Herb to strengthen your immune system and avoid infection.

How to naturally fight a cold or flu.

Understanding Immunity based on the Ayurvedic perspective of Ojas

- Everyone can benefit from improving their immune system to proactively prevent infection and improve overall health.

LOCATION:

Units No. 1504 & 1505, Jumeirah Bay Towers, Plot No. X3, Jumeirah Lake Towers, Dubai.

+971 4 360 9028 www.yogaashram.com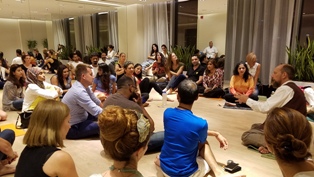 FACEBOOK PAGE FOR EVENT UPDATES: https://www.facebook.com/events/1557348544378367/
-------------------------------------------------------------------
APPOINTMENTS WITH KHABIR IN THE UAE
Between March 15th and the 30th Khabir will be providing private appointments most days. For details about a private appointment and to schedule an appointment please go here: http://khabir.simplybook.me/index/about